"Error establishing connection" with Bluetooth is one of many Windows 10 errors[1] that might bother computer users. The operating system delivers this error message when a particular device cannot be connected to the PC via Bluetooth or cannot transfer the data. There are many reasons that might stand behind this Windows error.[2] Sometimes the problem is temporarily and after few tries to pair devices you might succeed.  However, if you lack of patience or tried to do it more than enough times, you should find this article handy. In this text will reveal all possible methods to fix "Error establishing connection" error.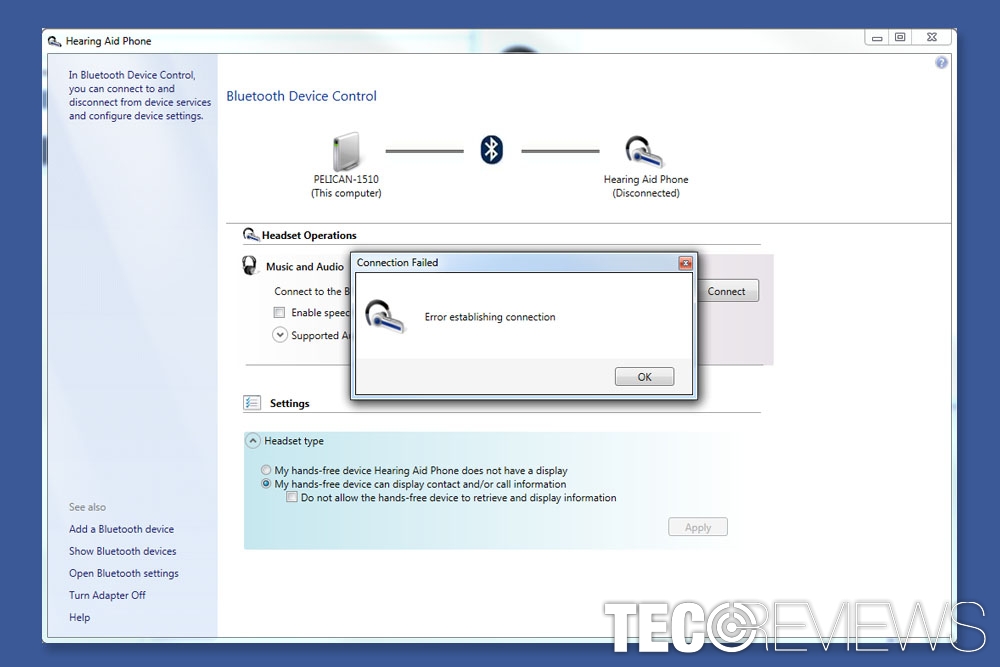 Connectivity problems might appear in all Windows OS versions. However, Windows 10 users report about these issues the most. This Bluetooth error might occur when a user tries to connect or pair wireless headphones, mouse, speakers or another device to the computer or laptop that runs in Windows 10.[3] It might also pop up on the screen when connecting a smartphone. Sometimes the problem is related to the device, but not a computer. Thus, before blaming your PC, you should check if a device can connect to another laptop, computer or mobile phone.
However, most of the time "Error establishing connection" message shows up when there are some problems with the computer. These issues might be related to particular software or system problems. However, most of the time the error is triggered by some troubles with drivers.
Unfortunately, connectivity drivers often face problems due to frequent updates. Therefore, they are most likely to fail to connect necessary devices and do not work properly. However, before uninstalling and re-installing Bluetooth driver,[4] you should try easier ways to solve the problem.
Solutions for fixing "Error establishing connection" with Bluetooth in Windows 10
When you have Bluetooth connectivity problems, you should make sure if the devices are not far away from each other. It may sound like a no-brainer, but if you put two devices close to each other, the problem might be solved immediately.
Sometimes disabling Wi-Fi connection or cellular data help to create a Bluetooth connection. However, of these simple tricks do not help, you should check the methods given below. There are several ways how you can fix "Error establishing connection" error. Fortunately, they are not very hard. Thus, you should be able to connect a necessary device using Bluetooth soon.
Method 1. Check if hardware you want to pair is working
Sometimes connectivity problems are related not to the computer but the device itself. Therefore, you should check if the device can be paired with another machine. For instance, if you try to connect a smartphone to a computer, you should try to pair it with speakers or another Bluetooth-capable device.
If it's still impossible to pair them, the issue is with your smartphone. However, if you manage to connect to another device, you have to read further and check our suggested solutions.
Method 2. Run System Troubleshooter
Windows 10 has a convenient troubleshooting feature that might help to identify and solve Bluetooth connectivity problem. Pair the devices and follow these steps:
Go to Settings.
Choose Update & security option.
In the left panel find Troubleshoot and choose this option.
Under the Bluetooth icon, there is a Run the troubleshooter option. Click on it.
The Troubleshooter will provide you a problem and offer to fix it.
However, in some cases, this method does not help. Thus, you should check the third method.
Method 3. Check Bluetooth service
Sometimes "Error establishing connection" with Bluetooth occurs because of some service problems. Therefore, you have to check if Bluetooth service is working properly by following these steps:
Open Run command line by pressing Windows key + R altogether.
Type services.msc in the command line and hit Enter key.
Go to Bluetooth support service.
If you see that the service is started, it means it's not the problem. Otherwise, right-click this entry and choose Start.
Most of the time computer errors are triggered by various drivers-related problems. Drivers that are performing tasks related to connectivity often have issues and problems. Therefore, if none of the above methods haven't helped you, it's time to check the Bluetooth driver.
Right-click the Start button and click on Device Manager option.
In the Device Manager look up for Bluetooth radios.
Once you find the Bluetooth driver, right-click on it and select Update driver software. If a driver is updated,

[5]

you should right-click it and choose Properties.
Go to the Driver tab and choose Roll back driver option.
However, if this procedure did not help, you should take the last solution to fix "error establishing connection" problem. It requires uninstalling the driver. You can do it simply. Right-click the driver and choose "Uninstall" option. Once this uninstallation is over, you have to restart the computer. The Bluetooth driver will be installed automatically when the PC boots up.