Apple has started distribution of the iOS 11. While others started enjoying new features of the latest operating system, others are impatiently waiting for the notification to upgrade their iPhone or iPads. However, if you are impatient, you should know that there's a way to upgrade to iOS 11.[1] However, in this article, we are going to talk about 8 the best new features that you should try out in your iOS 11.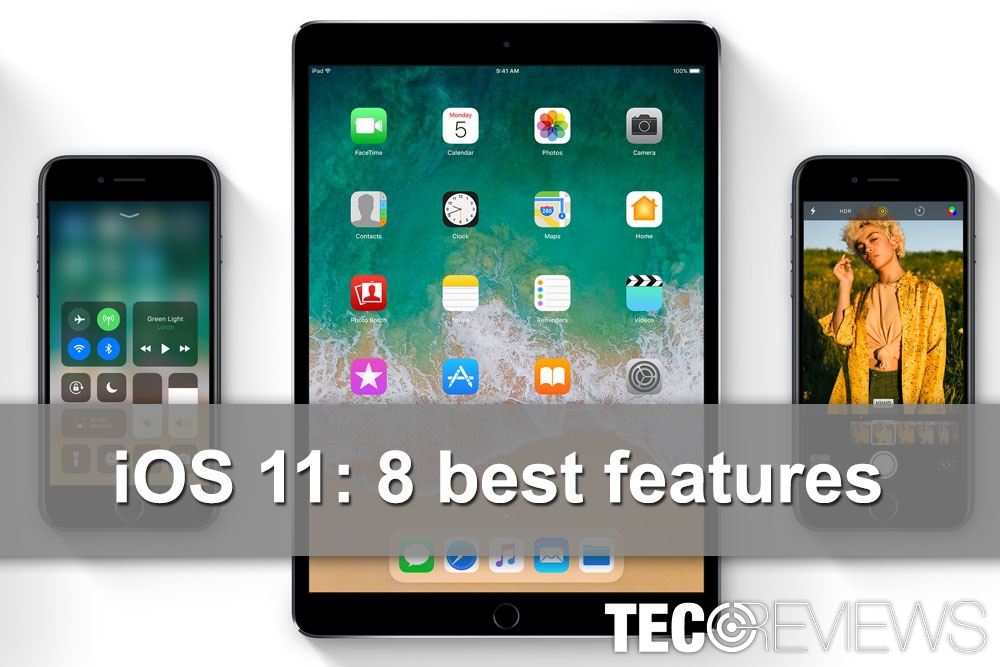 8 best features to check on your iOS 11
Since the news of the release of the iOS 11 emerged,[2] everyone started spreading rumors and talking about new exciting features that are coming up. The latest iOS is already here and we have tried it. Below you can find the list of 8 novelties that we all have been waiting for.
1. Control Centre
When you access the Control Centre by swiping up from the bottom of the screen, you will see a different view. The design changes allowed to fit more items on the screen.
In addition, you will be able to customize it and add necessary apps or entries. You can also access volume and brightness sliders, as well as some other settings using Control Center buttons.
However, if you hope to the Settings app directly, this option is still not available.
2. The Files app
iOS 11 includes one new in-built application called Files, which replaces iCloud Driv. This folder allows accessing files stored in the device, iCloud and third-party storage app.
The Files app has integration with third-party services, such as Google Drive, Dropbox, OneDrive, Box, Transmit, etc. In order to access these apps, you have to link them to the device. Then, these services should appear automatically in Files app.
3. iPad Dock
iPads finally received a major update that improves the user experience. The changed dock became similar to Mac OS dock. Therefore, you will be able to access frequently used apps easier. The biggest advantage is that Dock is available in portrait and landscape modes.
To see the Dock, you have to swipe up from the bottom of the screen.
How to add apps to the Dock?
All you have to do is to tap the app and drag it to the Dock. In order to remove it, just tap it, drag it and drop it to the new location.
4. The QuickType on iPad
iOS 11 gives another useful update for iPad users – the improved keyboard. The company presented a new Flick feature that allows typing easier. This feature allows entering numbers and specific features without taping shift key.
The keyboard now has double-functioning buttons. For instance, if you want to type 1, you just have to touch and swipe down the letter Q.
This feature seems to help to type faster. However, if you do not like it, you can always turn it off.
How to turn off the Flick feature?
Go to the Settings app.
Tap on General.
Go to Keyboard option.
Toggle off Enable Key Flicks option.
5. Siri translations
The Apple's virtual assistant Siri learned new languages, such as French, German, Italian, Spanish, and Mandarin. However, it can only translate from English to one of these languages only. The company is working on the improvement of this feature. Meanwhile, you can tell Siri to order your dinner in the Spanish restaurant where no one speaks English.
6. Text Siri
Do you feel awkward talking to the robot? That's OK. iOS 11 will let you get back to your comfort zone and text Siri. Apple released a new "Type to Siri" feature that can be turned on by following these steps:
Go to Settings.
Tap on General.
Go to Accessibility.
Choose Siri.
Toggle on Type to Siri.
7. No more tracking and fewer ads on Safari
iOS 11 brought new features and upgrades to the in-built Safari browser.[3] However, the most significant improvements are related to users' privacy.
Safari now has a new feature "Try to Prevent Cross-Site Tracking" which should stop websites from collecting your information and using it to display targeted ads.
Another security-related issue with cookies is also solved. To stop websites from storing cookies on your iPhone, just enable "Block New Cookies Data" option in the Safari settings.
8. Where are emojis?!
Apple announced about new emoticons available on iOS 11 on the World Emoji day. Therefore, netizens have been waiting for the day when they will be able to send dinosaurs and mythological creatures to their friends.
However, the day has never come. When first emoji lovers started upgrading to the latest OS, they became confused. "Where are emojis?"[4] probably was one of the most asked questions on Twitter.
The truth is that there was some "misunderstanding." According to Apple, the new emojis are coming later this year.[5] But for some reason, lots of iPhone, iPad and Mac users were expecting to see new icons to share with friends and social networks.
Therefore, we are sorry to tell you the bad news. The 8th exciting feature of iOS 11 is not available yet.