"Do you own this game or app" (Error code 0x803f8001)[1] showing on the screen might disturb your plans to spend an evening playing games. If you leave the game on and decide to grab a snack or drink, once you come back you might find this unpleasant notification that prevents from resuming the game. However, just like the majority of error codes, this one can be fixed quickly too.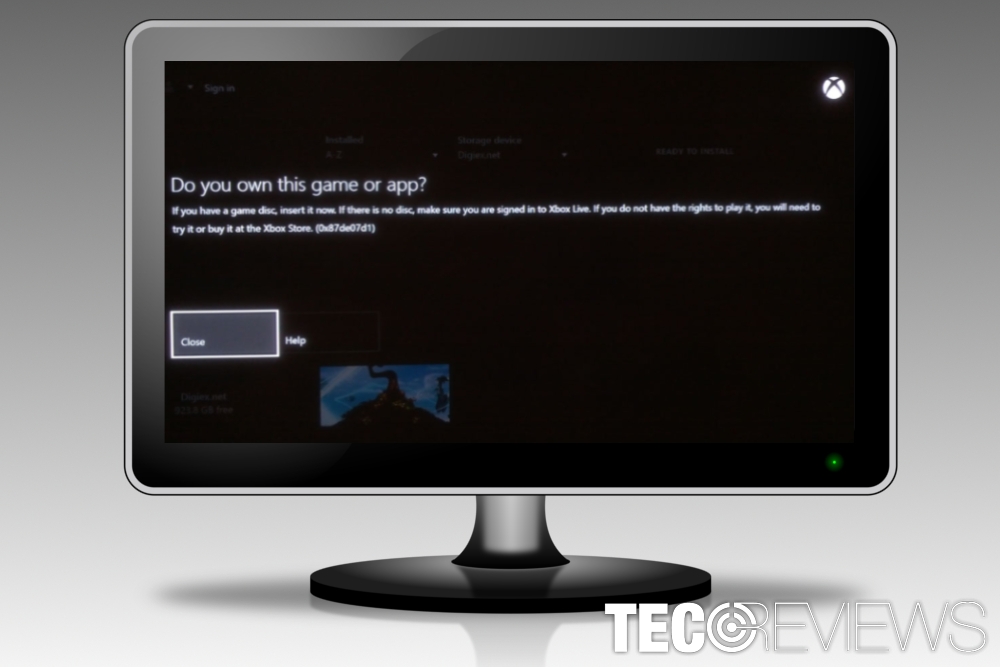 The source of the error
Error code 0x803f8001 might appear on original Xbox One and Xbox One S consoles. There are numerous reasons why the error might occur. However, Xbox support team provide these reasons why the Xbox error might occur:
Temporary service problem. You may need to wait a couple of minutes or check the official website to see what caused the problem and when it is expected to be fixed.
You are not signed in and connected to the Xbox Live.

[2]

 Even though you purchased and downloaded the game, you still have to make sure that you are connected to Xbox Live to solve the problem.
Other family member or friend has purchased and downloaded the game but did not sign into the console.
Problems with game disc, for instance, it's unreadable, experienced a failure or is not included in the console.

[3]
Quick methods to fix "Do you own this game or app" (Error code 0x803f8001) issue in Xbox
Before trying recovery methods below, you should check Xbox Live service status. Sometimes the problem and its recovery solution might be reported on the official Xbox website.
If the game was purchased and downloaded by one of your family members or friends, check if he or she is connected to the Xbox Live. However, if you were the one who bought the game, you should also make sure that you are connected to Xbox Live as well.
Additionally, you can try to reinstall the app or the game that you were playing when the error 0x803f8001 occurred:
Find the app that triggers the error by entering its name into Windows search box.
Once it appears among search results, right-click it and choose Uninstall option.
Follow the uninstallation guide.
Once the app is successfully uninstalled, go to Windows Store.
Find the app you recently uninstalled and re-install it.
Then check if the "Do you own this game or app" (Error code 0x803f8001) problem still exists. If yes, try the methods presented below.
Five options to fix Error code 0x803f8001 on Xbox
Method 1. Power cycle Xbox console
Power cycling the console helps to solve numerous common issues. Therefore, it might help to get rid of the annoying error as well. Additionally, this method does not delete games or other data. Thus, syncing is not needed. To try this method, follow these steps:
Plug in your Xbox.
Press and hold the power button for about 10 seconds. Wait until the console turns off.
Once it turns off, unplug it.
Wait for 10-15 seconds and plug it.
Turn on the device.
Check if the "Do you own this game or app" (Error code 0x803f8001) error appears. If yes, congratulations! The problem is solved! If not, it's time to perform a hard reset.
Method 2. Perform factory reset
Differently than the previous method, factory reset deletes all your settings, games and other data. Factory reset or hard reset will restore your Xbox console's settings to default. Thus, it's recommended to sync all your data in order not to lose anything. Once you backup, follow these steps:
On the navigation pad press the left button.
The Menu appears. Navigate to All settings and choose it by pressing A.
Go to System and access Console Info & Updates.
Click Reset Console option.
Method 3.  Clear Windows Store cache
Problems with cache[5] might trigger many errors, including "Do you own this game or app" (Error code 0x803f8001). Therefore, clean it to find out if it was the case:
Open Command Prompt by entering cmd into Widows search box or pressing Win + R keys.
Enter WSReset.exe in the command prompt and hit Enter key.
You will receive a message about a cleared cache. Then restart your computer.
Method 4. Set home console
When you sign in to Xbox and save your password, the console is set as your home.  However, if you are not sure if the console you use is set as your home, follow these steps:
Launch the guide by pressing Xbox button.
Go to System > Settings > Personalization.
Choose My home Xbox option.
Check the provided information and select Make this my home Xbox option to make your console the home Xbox.
Select This is not my home Xbox to revert the change.
Method 5. Clean persistent storage data
If none of the previous methods helped to fix "Do you own this game or app" (Error code 0x803f8001) error, cleaning persistent storage data should help:
Go to Xbox settings.
Choose CD/blueray.
Go to Persistent storage.
Choose Clear persistent storage option.
Unplug the console and then plug it in again.