Choosing anti-malware software[1] is an important and serious task. There are many tools in the market which offer similar functionality, and often has a similar price. Hence, it might be hard to make a decision. Today we are going to review two competitive security tools – Zemana AntiMalware and Malwarebytes AntiMalware. Developers of both security programs are known for more than a decade, so both of the tools offer innovative and useful features to clean and protect computers from the latest cyber threats. However, you need only one, right? Hopefully, our comparison will help you to make a decision.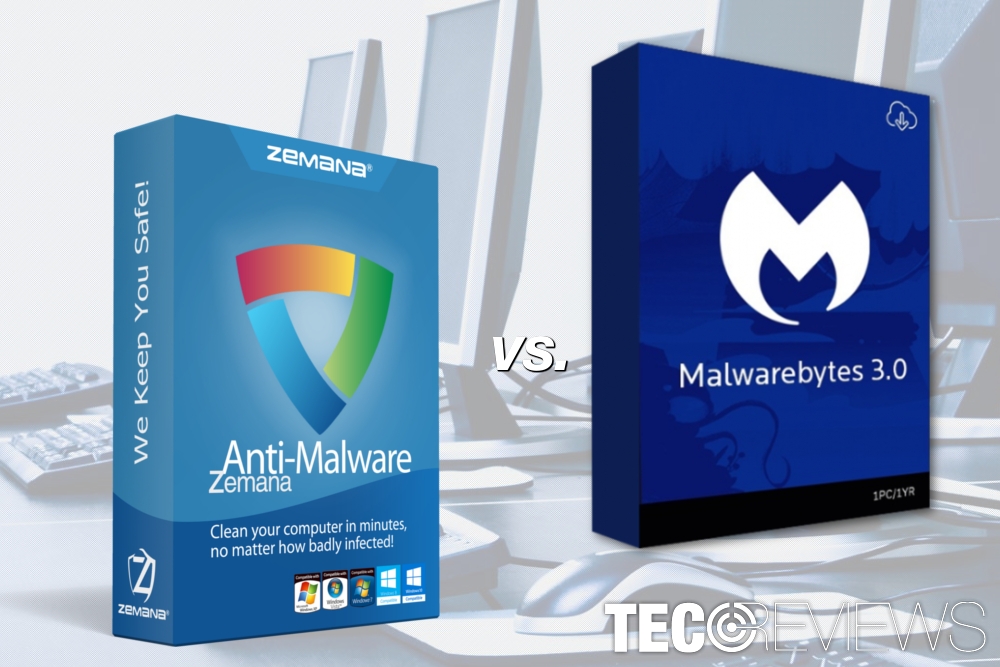 Quick Zemana AntiMalware review
Zemana AntiMawlare by Zemana Ltd. is a security tool that can clean malware and potentially unwanted programs (PUP) from the affected Windows computers and Android devices. Additionally, it offers real-time protection and can save your computer from ransomware and other malicious programs. However, these features require purchasing its license.
Hence, the program has two versions – free and premium. Therefore, you can download the free version of the program to try it out before making the payment. However, even after the buying the license, you can get a refund in 30 days if you did not like the product.
Free Antimalware scans and removes cyber threats
Just like the majority of free versions of the antivirus, Zemana also works as a scanner and malware removal tool. This version of the program offers only three features:
malware detection and removal;

browser hijacker (and other potentially unwanted programs) removal;

rootkit and bootkit detection and removal.
As you can see, a free Zemana AntiMalware does not provide real-time protection and cannot save your PC from ransomware or zero-day malware. In order to explore these features, you will need to obtain the license.
The features of Zemana Anti Malware Premium
The paid version of Zemana offers more feature, wider protection options, and technical support service. The features of Premium Antimalware:
Real-time computer protection[red id=2] from cyber threats;

Removal of the potentially unwanted programs (adware, browser hijackers, add-ons, toolbars, browser extensions, etc.);

Ransomware protection;

Zero-day malware

[3]

protection;

24/7 Technical support.
Pricing and money back guarantee
The license of Zemana Premium costs 24,95 € for one year. Additionally, you can choose protection for a longer period of time. Developers offer to purchase 2-year license for 37,95 € and three-year subscription for 49,95 €.
However, the price will change if you choose subscription for three or five computers. Also, you can contact developers for customized subscription plans.
Additionally, you will be given "30-day no questions asked money back guarantee." Hence, if you do not like the product, you will be able to get it back the money.
Operation of the anti-malware software
Program's interface is clean and simple. It's easy to find needed functions and scan the computer. Therefore, using this program should not cause any problems even for less skilled users.
What is interesting, Zemana Anti-Malware does not offer quick scan feature. However, it's quite reasonable developers' decision. The quick scan usually cannot detect the major cyber threats that might be residing on the computer.[4]
However, the full scan takes some time. The program has a high malware detection rate, and after the scan, it displays detected threats in the program's window. Then users can choose what to do with them – delete, quarantine or exclude.
A brief overview of Malwarebytes Anti Malware
Malwarebytes AntiMalware offer multi-device protection for home computer users and business. Developers offer different products for home, business, education, finance, and healthcare sectors. This security software is compatible with Windows, Mac and Android operating systems.
Just like Zemana, Malwarebytes Anti-Malware also has free and paid versions of the program. The main difference between these versions is that the free product mostly works as a scanner, while paid version cleans and protects the machine.
Features of the free version of Malwarebytes AntiMalware
If you are interested in Malwarebytes antivirus, you can download a free demo version from the developers' website. You will be able to test features of the antimalware for 14 days. Later, the program will perform only two features:
Anti-malware, anti-spyware and malware detection and removal;

Anti-rootkit removal and corrupted file recovery.
Therefore, the free version of Malwarebytes does not offer real-time protection for cyber threats. It just only removes current infections from the affected computer.
The functionality of Malwarebytes AntiMalware Premium
The Malwarebytes Premium operates offers real-time protection from various cyber threats and wipes out malicious applications from the machine. The program provides:
Real-time protection;

Anti-exploit feature;

Protect from ransomware attacks;

Prevents from accessing malicious websites;

Spyware and malware detection and elimination;

Anti-rootkit removal and file recovery after the attack.
As you can see, the paid version of the antimalware software not only cleans computer viruses but can protect from file-encrypting viruses and other cyber threats too.
Pricing and money back guarantee
One Year subscription of Malwarebytes Premium for Windows, Mac, and Android is available for 39.99 €. Currently, the license for two years is 59.99 €. Therefore, you can save up about 25% for buying a longer license.
The license is available for one device only. However, if you want to protect more machines, it will cost 10 € more for each device. Though, it's not that expensive.
Developers also provide a 30-day money back guarantee. Therefore, you have a right to get back your money if you are not pleased with a product.
Operation of the security software
The program has a user-friendly interface, so it's an easy to use tool even for less experienced computer users. The most important feature of the program is that it has a huge malware database and can quickly identify cyber threats on the affected computer.
A quick system scan takes about 30 seconds. Hence, you can quickly check if the system was not infected with minor cyber threats. Remember that quick scan does not always detect hazardous viruses.
The downside of the program is that it might display various pop-ups that are quite annoying. This issue is especially reported by the users who kept free version installed on the computer.[5] The program might promote Malwarebytes Premium quite aggressively.
Summarizing the comparison of the Zemana AntiMalware and Malwarebytes AntiMalware
The review of each security software showed some similarities and differences which play an important role when choosing one of these tools. Talking about the similarities, both programs have paid, and free versions, clean computers from cyber threats and offer real-time protection if you pay for the license.
The pricing of the programs is also similar, as well as functionality. However, both anti-malware tools has some differences, such as:

Malwarebytes Anti Malware offers 14-day free trial of the full version of the program; while Zemana AntiMalware does not have this functionality.

Zemana Free AntiMalware provides more features than the free version of Malwarebytes.

Zemana AntiMalware offers 24/7 support for Premium version users while Malwarebytes has only Support page with answered frequently asked questions and problems.

Malwarebytes AntiMalware is compatible with free operating systems (Windows, Mac, and Android), while Zemana for two (Windows and Android).
As you can see, both programs are very similar. Hence, it's quite hard to tell which one you should use to protect or clean your computer. The major difference is that Malwarebytes is more expensive and provides more innovative features. However, you can download a free trial and test if it is worth the money.
Meanwhile, Zemana provides all needed features and protection for home computer users. However, if you are not satisfied with a purchase, you can get a back the money in 30 days.
If you need just a regular anti-malware software, you should probably obtain Zemana AntiMalware. However, if you need more protection, Malwarebytes AntiMalware can be the option for you.