Finding effective solution for ERR_QUIC_PROTOCOL_ERROR in Google Chrome
Failure to access Google account, Facebook, Twitter or another popular virtual destination might be highly irritating especially when such odd message appears: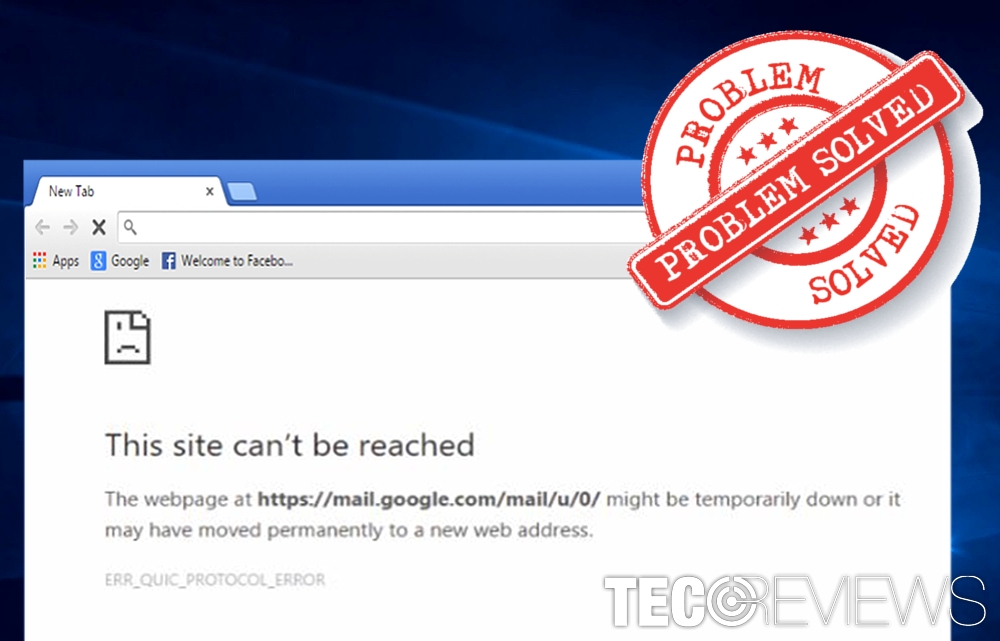 This site can't be reached.
ERR_QUIC_PROTOCOL_ERROR
The error message refers to Experimental QUIC protocol. It is UDB-based transport protocol[1] to improve data exchange process and reduce data transmission time in Chrome. The essence of it lies in fewer data requests between the receiver (your browser) and the server. The former protocol made several round-ups of such requests before it delivered the wanted result. A fewer number of such requests means less time necessary to access the wanted information.
The purpose of Experimental QUIC protocol
It was designed not only to speed up Chrome clients' browsing but improve online game graphics as well. The benefits of this protocol is that Google can improve browsing quality in contrast to limits of TCP (Transmission Control Protocol).[2] If you did not encounter the message, you might leave it set to the default settings.
The protocol was introduced in 2014. However, since it seems to have caused issues for some. Due to questionable reasons, some users reported inability to access wanted websites due to this error. Usually, the error occurs only when attempting to visit specific domains.
Fortunately, the virtual community has come up with the solution which works for the majority of users – disabling Experimental QUIC protocol.[3] Below you will see explicit instructions how to do it.
Though disabling it works in the majority of cases, for a few it did not restore usual Chrome functionality. Then you may need to reset the settings. You may also do so before disabling the protocol. Due to the above-discussed aspects, it would be better to let the protocol function.  However, if after resetting the browser, the same error message appears, do not hesitate to disable QUIC. In addition, temporarily turning off the firewall might also contribute to the solution.
Solution 1. Disable Experimental QUIC protocol
Open Chrome browser.
In the search bar, type chrome://flags/ and press Enter.
Ignore "Careful, these experiments may bite" warning and continue

[4]

. When it appears, click Ctrl+F simultaneously to open a search box.
Type Experimental QUIC protocol in it. Once you find it, choose Disable option.
Relaunch the browser.
Solution 2. Reset the browser
In case you are one of the few users, for whom the above-suggested method did not work, you might also try resetting the browser. You might also notice "Invalid request" notification. Reset the browser the following way:
Once you open the browser, click on three vertical dots in the top right corner and navigate to Settings.
Scroll down until you see Advanced. Expand the option.
Scroll down until you see Reset option. After you click on the option, the notification appears informing that your startup page, extensions and saved tabs will be deleted. Save the important links and click on Reset again.
Relaunch Chrome.
Solution 3. Uncheck Proxy option
Press Windows Key + R, enter inetcpl.cpl and hit enter to open Internet Properties.

[5]

Go to Connections tab and choose LAN settings.
Uncheck Use a Proxy Server for your LAN and make sure Automatically detect settings is checked.
Click OK and Apply.
Reboot your PC.