Google-parent Alphabet snatched Apples crown as the worlds most valuable firm based on the value of shares that leapt with better-than-expected earnings. If those gains hold in official trading when the Nasdaq opens in New York City on Tuesday, Alphabet would officially overtake Apple as the worlds biggest company by market value.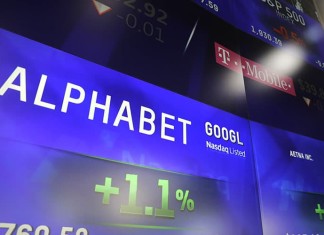 Interesting facts around this expected development:
1. Apple had held for the better part of four years.
2. The change may signal the passing of the technology baton to Alphabet formerly known as Google from Apple, which surged past Microsoft in market value in 2010.
3. Microsoft in turn had eclipsed International Business Machines two decades ago.
4. Apple and Alphabet had worked hand-in-hand to develop mobile computing, but fell out bitterly after Google launched its own Android mobile operating system in 2008.
5. Googles then-CEO Eric Schmidt left Apples board in 2009.
6. Apple shares dipped last week after reporting the slowest-ever increase in iPhone shipments and forecasting its first revenue drop in 13 years.
7. Alphabet shares are much more expensive, relatively speaking, than Apples, trading around 38 times earnings for the last 12 months, compared to about 11 times for Apple.
8. Alphabet pays no dividend, whereas Apples dividend currently yields about 2 per cent of the stocks value annually.
9. Alphabets move into the top spot makes it the 12th company to be recognised as the largest publicly traded US name since 1928, according to S&P Dow Jones Indices. Past No. 1 names include General Electric, General Motors and IBM.
10. In the fourth quarter, Google produced an operating profit of $6.8 billion on revenue of $17.1 billion, after subtracting ad commissions. That translates into a whopping profit margin of 40 per cent. Apple registered an operating profit margin of 32 per cent in its most recent quarter.