Wondershare Fotophire can be a great helper to edit your holiday pictures and remove those annoying tourists in the background. It's an easy to use tool that has three main features: photo editor, cutter, and eraser. The latter feature was our favorite. With the help of this photo editing software, you can quickly delete unwanted objects without putting much of the effort. However, if you are looking for picture editing toolkit for personal or business use, this Wondershare Fotophire review should be useful for you.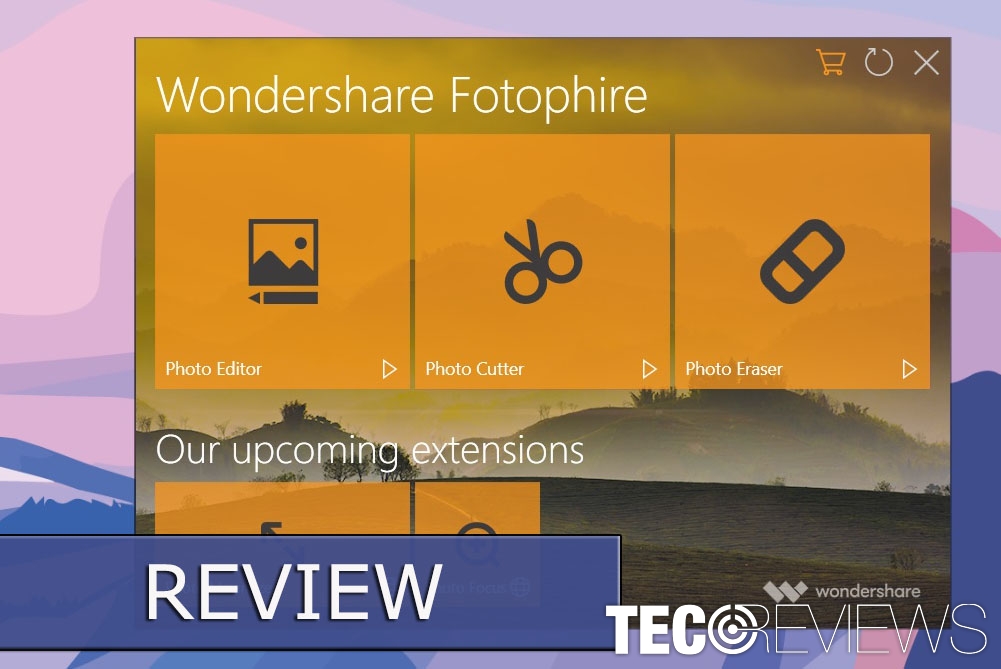 Pros:
easy to use even for non-experienced users;
basic features, such as cropping, editing and erasing objects;
photo cutter feature works better than other photo editors';
7-days free trial.
Cons:
slow installation and performance;
quite an expensive subscription;
compatible with Windows OS only.
Easy to use photo editing feature
Wondershare Fotophire has an easy to use photo editing feature that gives all the basic tools you might need: cropping, adjusting, fixing the lighting or adding more saturation, and many more. The user interface is easy to use, and with a few clicks, you can make your photography to look better and more professional.
One of the useful features is an ability to have "before" and "after views." Thus, in the same window, you can see the photo editing progress and even adjust the view based on your preferences. The photo editing software supports four different styles, such as split view, horizontal, vertical and side-by-side. Hence, you can make the program interface convenient personally for you.
It's easy to get lost in more than 200 photo filters
One of the advantages of the photo editing program is a big library of effects, such as photo filters, frames, and overlays. Thus, it allows easily changing the mood of the picture.
However, from our perspective, filters might not be as great as it may seem. Less experienced users might find it difficult to choose and find the one that fits the best.[1] Meanwhile, photographers or other people closely related to this sphere might find them useless or even damaging the quality of the picture.
Framing your picture
Another feature of the Wondershare Fotophire is adding frames. The program allows framing your picture into one of the hundreds of different frames. However, the usefulness of this feature can be the topic of the discussion. While some people might find it attractive; others might find it old-fashioned.
Photo cutter features allows removing background within a few clicks
If you need to cut off an object or background and make it transparent, this task might be complicated and hard using other photo editing software. However, Wondershare Fotophire completes this task without making you spending hours of cutting the object properly to avoid making it look sharp.
According to the developer's website, the success of this feature hides behind leading color detection technology which allows identifying the edges automatically. Thus, you do not need to zoom the picture and cut the edges pixel-by-pixel.[2]
Additionally, you can not only remove the background but change it as well. You can either import your preferred background picture or choose from the Wondershare Fotophire's library.
Built-in tutorial helps to learn how to use the program
If you are not sure how to use photo cutter feature, developers of the Wondershare Fotophire offers simple and quick tutorials how to take advantage of it. We can ensure that anyone could easily repeat the steps successfully.
If you have ever tried to delete unwanted objects from the picture, such as tourists who managed to step into the photo, trash that is damaging the beautiful city architecture or similar entries, you may have dealt with the same problem as we did – it's hard!
However, the Wondershare Fotophire program shown that this hard work is not needed. According to the developers, they use a specific algorithm that makes this task very easy:
Our algorithm analyzes the surroundings and automatically fill in the area with matched textures.
We tested this feature on a bunch of different pictures and objects, and we can say that it's not marketing. This program can easily cut off unwanted entries without damaging the background of the picture. It's definitely the best feature of this editing software.
Removing watermark and date stamp
While removing watermarks of the pictures may not be the best and most legal action, occasionally we may need it, and this editing software helps to do it quite easily[3] without damaging the picture itself. Additionally, you will be able to remove the date stamps which definitely make the photo look terrible.
Make old photos look good again
If you want to scan an old picture from the grandmother's album and make a copy of it, this program can help to make it look like a brand new. Once import scanned image, you will be able to remove scratches and repair the picture. Thus, you can restore the photography, print it and put in on the wall.
The free trial of the Wondershare Fotophire photo editing software ends in 7 days. Later, you have to test whether you want to keep it or not. If you decide to continue using it, you will need to pay 89.99 USD for a one-year subscription. Additionally, you are offered to purchase insurance service for 24 months warranty for 4.95 USD.
The calculator on the shopping cart will also include VAT which is 19.94, and for the year subscription, you will have to pay 114.88 USD. Indeed, that's more than a half of Adobe Photoshop's membership. However, the functionality of these tools cannot be compared. However, the license is quite expensive.
Wondershare Fotophire does the job it promises. We are amazed by photo cutting feature and ability to recover old pictures. The program has a simple and intuitive user interface, so anyone can quickly learn to use it. Additionally, the learning process is simplified by quick tutorials.
However, the installation of the program and operation itself is quite slow. Another issue is that the photo editing software might seem quite expensive. Though, it's functionality is great and might be better than the majority of a free editing toolkits. Thus, if you haven't found any free editor[4] that suits your needs, you should definitely try a possibility to test Wondershare Fotophire[5] for free for a week. Later, you can make the decision whether it's worth hundred dollars or not.
Wondershare Fotophire is an easy to use photo editing program that offers all important editing, cutting, erasing and creative features.