According to the Lifehacker's readers,[1] Private Internet Access (PIA) is the best VPN (Virtual Private Network) service provider that you can get in 2017.[4] Therefore, we decided to test what is so good about this program; and we discovered that it actually offers reliable services and lots of additional features for the affordable price. This VPN provider allows accessing 3,253 servers in 25 different countries that's not a lot compared to other VPNs. However, the Private Internet Access offers an easy-to-use tool that helps to protect your online privacy and security[2], and of course, bypass geo-blocking.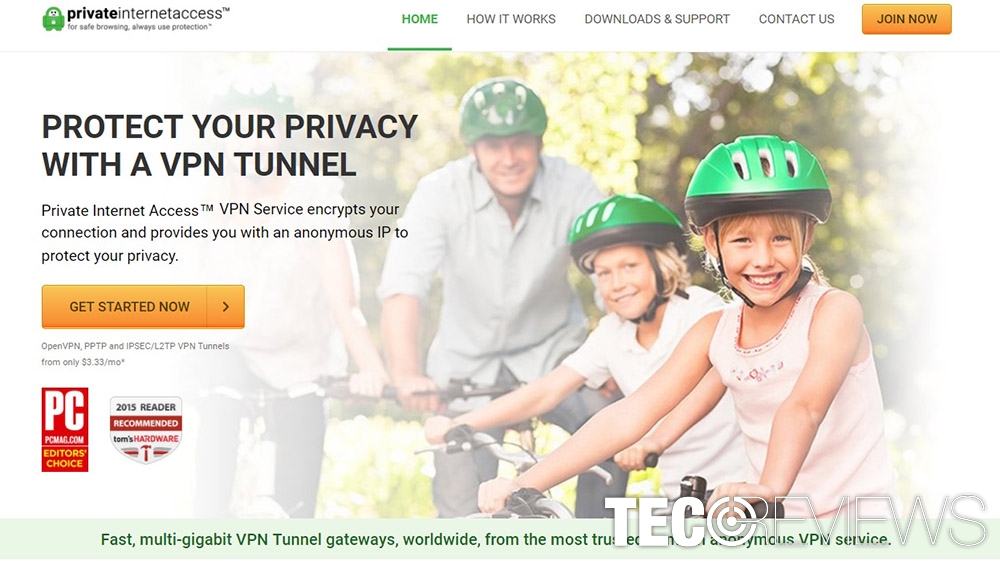 Advantages and disadvantages of the VPN provider
Pros:
cheaper than the majority of similar VPN providers;
high-level privacy and security;
a variety of encryption options;
accessibility to worldwide servers;
fast connection speed for streaming;
ad-blocking and other additional features.
Cons:
no trial versions;
questionable customer support service;
reported issues about PIA for Mac and iOS;
does not unblock US Netflix.
Conclusions:
offers wide connectivity to worldwide servers;
affordable;
had additional features;
does not have 24/7 customer support service
VPN's features and services
One of the biggest difference from other VPN providers is that Private Internet Access does not have a desktop application. Well, it has a simple login panel, but once you enter your credentials, it disappears. However, you can find it in the system tray and use the icon for connecting or disconnecting and setting VPN configuration.
Nevertheless, this VPN service has more than 3,000 servers in 25 countries; users are not allowed to pick their preferred server. All they can do is to choose one of the four possible regions or countries: Australia, Canada, the United States or the United Kingdom. Compared to AirVPN, which allows accessing preferred servers and checking their status, PIA might look unattractive.
The main features of the program:
Secure VPN Account;
Encrypted WiFi;
P2P Support
PPTP, OpenVPN, and L2TP/IPSec;
5 devices simultaneously;
Block ads, trackers, and malware;
Multiple VPN Gateways;
Unlimited Bandwidth;
SOCKS5 Proxy Included;
No traffic logs.
Supported OS:
Mac OS and OS X;
Windows 10 / 8 / 7;
iOS;
Android;
DD-WRT PPTP;
DD-WRT OpenVPN;
Tomato OpenVPN;
PfSense OpenVPN.
Pricing
The PIA price is lower than majorities of other VPN providers, for instance, Nord VPN. In the picture above you can see current prices and subscription plans. The biggest disadvantage is that it does not offer a free trial.
Privacy and security
The biggest concerns are related to company's location. It is owned by American company London Trust Media. Therefore, the legitimate program has to comply with the US law. Here the concerns may arise due to the issues with FBI and NSA.[5] However, users should not worry about it.
The analysis of VPN's operation and privacy policy reveals that this tool does not log users activities, so authorities can barely learn something about your online activities.
Just like any other VPN service, PIA also asks to create an account. Therefore, you may need to disclose your contact information. Though, you can use an alternative email address to protect your identity. Users are also asked to obtain a subscription plan. However, if you are concerned about banking transactions; you can pay in Bitcoins, Cashu or giftcards.
Encryption options
Data protection is the most important task for the VPN app. However, PIA offers a bunch of decryption options that are divided into four categories. [3]
By default users are recommended these options:
Data encryption: AES-128
Data authentication: SHA1
Handshake: RSA-2048
Users who want maximum speed and do not care about online safety, the Private Internet Access offers these settings:
Data encryption: None
Data authentication: None
Handshake: ECC-256k1
For maximum protection users should opt for these options:
Data encryption: AES-256
Data authentication: SHA256
Handshake: RSA-4096
The last category is called "Risky Business" and offers such combination of encryption, authentication and handshake settings:
Data encryption: AES-128
Data authentication: None
Handshake: RSA-2048
Honestly, such classification means nothing for beginners. However, the company provides a detailed explanation about data encryption and authentication, as well as a handshake. Therefore, users should analyze this information before choosing the right encryption strategy.
Support service
Users can contact the company via provided email form. However, according to the official website, customers can expect to receive needed help within 4 to 6 hours. Although, it might seem like a normal response time; some VPN services offer 24/7 support. Therefore, it might be a disadvantage if you expect to receive necessary help instantly.
However, users expressed numerous complaints online about poor support service. Of course, the company promised to fix (and hopefully fixed) these problems.
The final words
The Private Internet Access VPN performs just like it's promised on the official website. However, if you are willing to watch the U.S. Netflix, this tool won't help you. No matter how great its features are, it's not the best choice for a movie or TV shows lovers. However, if you are not one of them, you can be sure that browsing the web using this VPN service is secured and anonymous.
Private Internet Access VPN offers great and reliable services. However, the biggest disadvantages are the inability to access the US Netflix and poor customer support.