"This site is not secure" is a security alert that prevents users from accessing various websites. In the technical language, this error is known under the name of DLG_FLAGS_SEC_CERT_CN_INVALID. The major web browsers, such as Google Chrome or Mozilla Firefox, stop and warn users when they are about to enter a potentially harmful website. However, the problem is that this error message might show up when users try to access legit and safe sites that they were visiting on a daily basis.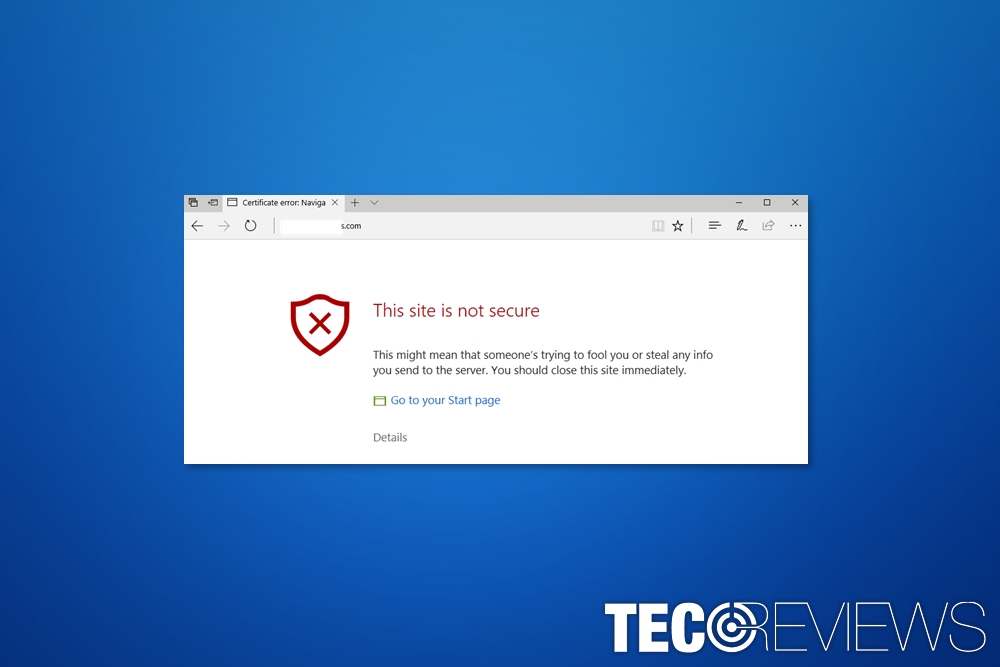 The error has been reported on Google Chrome, Mozilla Firefox, Microsoft Edge, Internet Explorer and Opera web browsers. The issue is most likely to bother Windows 10 users. However, if you are an older OS user, you should not be surprised to see the error code DLG_FLAGS_SEC_CERT_CN_INVALID too. This security error might bother every Internet user.
What triggers this security error?
When website delivers a "This site is not secure" error, the majority of users believe that something went wrong with the website. In the era of malware, it's possible that popular site was hacked.[1] Thus, the fear of getting infected with the dangerous virus often discourages from clicking "Go on to the website (Not Recommended)" button. Indeed, it's always recommended to stay away from the sites that are marked as unsafe.
However, the attack on a particular site might not be a problem. There are three main reasons why this security error might show up on your browsers:
Problems with browser's cache.
Issues with website's security certificate.
Expired or missing the trusted root certificate for the Certification Authority (CA).
WARNING: The website you visiting might be malicious
Before proceeding to the methods that can fix "This site is not secure" error, we want to warn that your browser might actually prevent you from malicious content.
Chrome users should especially pay attention to this error message because this browser is designed to stop users from accessing websites that might be used for phishing or other cyber crimes.[2]
However, if you are 100% sure that the error is a mistake, you should not hesitate and learn how to fix the DLG_FLAGS_SEC_CERT_CN_INVALID error.
Methods to fix "This site is not secure" pop-up (error code DLG_FLAGS_SEC_CERT_CN_INVALID)
In order to fix this browser security error, you should clear browser's cache,[3] install missing certificates or/and disable "Warn about certificate address mismatch" feature.
Bear in mind that if the site you try to access is indeed malicious, you might end up with serious problems. Thus, evaluate your risks before you start.
Method 1. Clear browser's cache
The instructions below are created for Google Chrome web browser. However, if you use Internet Explorer, Microsoft Edge, Mozilla Firefox or another web browser, the steps might slightly differ. However, the principle remains the same, but you can check the instructions here.
 Open Google Chrome and access its Menu.
 Go to More Tools and open History.
From the appeared new window, click Browsing data.
Choose entries you want to delete from the list. Don't forget to set the data from which you want to remove entries to "the beginning of time."
Method 2. Install necessary certificates
When you receive the "This site is not secure" alert, you should look for a link or button saying "Continue to this website (not recommended)." Click on it and then follow these steps to fix DLG_FLAGS_SEC_CERT_CN_INV error:
Next to the red address bar, you should see the Certificate Error option. Click on it.
Click View certificates option in the popped up information window.
Choose Install Certificate option and then follow the instructions.
Once the dialog shows up, click Yes to proceed.
Note: do not install any certificated form untrusted or unknown websites. It might be dangerous for your computer and privacy.[4]
Method 3. Turn off "Warn about certificate address mismatch" feature
Open Control Panel.
Go to Internet Options.
Click the Advanced tab.
Navigate to Security section and click on it.
Find "Warn about certificate address mismatch" option. If the box next to it is checked, remove the tick in order to disable these settings.
Click Apply, then OK to save the changes.
What to do if nothing helped to fix "This site is not secure DLG_FLAGS_SEC_CERT_CN_INVALID" error?
If the security warning continues appearing on your browser when you try to access a particular website, it's most likely that this site is the source of the problem. Thus, accessing it is not recommended because it might include malicious ads,[5] corrupted downloads or other potentially dangerous content.
However, if you are sure that the site is legit, the last thing you can do is to contact website's owners or administrators. Maybe they haven't noticed that hackers possibly attacked their website or they just need to check or update missing certificate.
Sometimes the error code DLG_FLAGS_SEC_CERT_CN_INVALID is triggered due to an expired certificate. Thus, as soon as website owners renew it, the problem will be solved.