Netflix NW-2-5 is a connectivity error that prevents from reaching the popular Netflix service. This issue might occur when you try to stream using any device, including smart TV, Play Station, Xbox or Blu-ray Player. Indeed, this problem might be annoying if you are in a mood of binge-watching a new season of the favorite TV show. Netflix is available in the United States as well as other 50 countries all over the world. No matter the location, this Netflix error might occur anytime.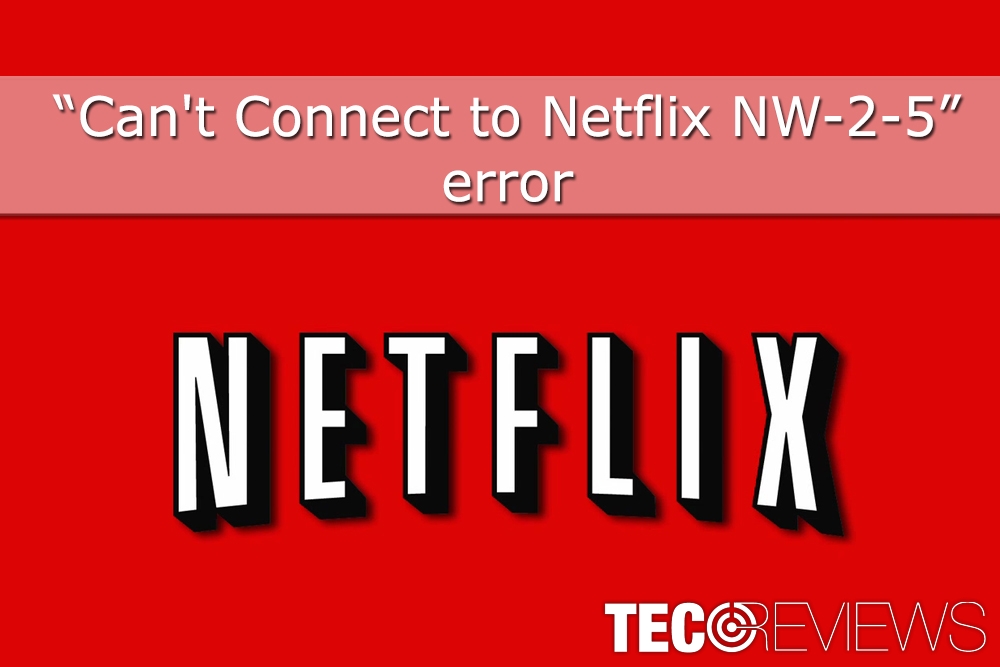 Why is Netflix error so bothersome?
On various forums, users report that NW-2-5 error often shows up only on one device. For instance, people can stream Netflix via Smart TV, but attempts to connect via PlayStation ends up with an error message:
We're having a problem connecting to Netflix. Please try again or visit: www.netflix.com/help.
This error code mostly appears on PS3, PS4, Vizio, PS4, and Xbox. However, it seems that the majority of users, who dealt with this issue, were trying to connect using Sony PlayStation 3.
Sources of the error
The specific reasons why Netflix error might show up is unknown. The problem is related to connectivity issues. Thus, the source of the error might be:
Netflix is blocked on public Wi-Fi;
Usage of cellular data network or satellite Internet;
Low Internet's speed;

[4]

Poor Wi-Fi connection;

[5]

Problems with the router.
Methods to fix Netflix NW-2-5
Currently, there are two approved ways that can help to get rid of Netflix error. Firstly, you have to make sure that there are any problems with your Internet connection. If your connection is perfect and the speed of Internet is great, the second method – bypassing the router – should work. However, if the second method fails as well, we will explain how to improve your Wi-Fi's signal to get rid of the problem.
Option 1. Check Internet connection
Step 1. Check if Netflix is not blocked.
If you are trying to stream using public Wi-Fi, for instance, in school or hotel, it's possible that such network has a limited bandwidth. Thus, you should check with network administrator, if they have intentionally blocked or does not support Netflix.
Step 2. Switch to DSL or cable internet
If you're using cellular data network or satellite Internet, the speed might be too slow. Thus, the Netflix NW-2-5 error occurs. To fix it, you should switch to cable internet or DSL.
Step 3. Test the Internet speed
Sometimes the problem is a slow Internet. Thus, check your Internet connection's speed with a speed-test device.[1]
Step 4. Restart the device
No matter how silly it sounds, but restarting the device helps to solve numerous temporary connectivity issues.
Step 5. Restart home networks
If restarting your smart TV or another device did not help, you should reboot your home network to fix Netflix NW-2-5 error. You have to unplug your router and modem for about 20-30 seconds. Then plug them back and try to connect again. If the problem comes back, try the second solution.
Option 2. Bypass the router
Sometimes the problem is a router. Thus, if you use a wireless router that is connected to the modem, you should just connect directly to it. Once you connect to the router with Ethernet cable, you will be able to see if the router was the problem.
Turn off the device.
Connect the device to the modem using Ethernet cable.
Restart the modem by unplugging it for at least 30 seconds.
Plug in the device and turn it on.
Try to connect to Netflix. If the NW-2-5 error is gone, it's clear that the source of the problem was a router. Therefore, you can either re-configure router's and DNS settings or just bypass the router every time you want to watch your favorite series.
Option 3. Improve your Wi-Fi signal
If previous methods did not help, you should try to improve your Wi-Fi signal.[2] Sometimes all you have to do is just to move the router closer to the device.[3]
Move the router to a new location. Keep it the center of your home to have the best connection in all corners of your home.
Locate the router further from other wireless devices, for instance, cordless phone. The problem might be that these devices cause problems or even blocks the router.
Put your router higher. If you keep the router on the floor, put it on the highest shelf – the higher, the better. The connection is better when the router is not hidden behind furniture or other household items.
The solution to the problem for BT users
British Communications (BT) users are most likely to receive the Netflix NW-2-5 error du their Parental Controls. However, the issue can be easily solved by disabling this service:
Login to My BT page using your credentials.
Once you logged in, scroll down to the My Extras sections.
Access Personalise your settings option.
Find BT Parental Controls option and click the button next to it to turn off this feature.