Windows 10 computers might get stuck on Welcome screen[1] or take a very long time to restart. Though, a system restart is often needed after installing updates[2] or programs. This procedure might seem annoying in general because it takes your time from using the PC. However, it is more bothersome when you have to wait more than expected until the system reboots. There are many reasons why this unpleasant situation happens. However, in this article, we will explain them all and give four methods how to fix long restart times on Windows 10.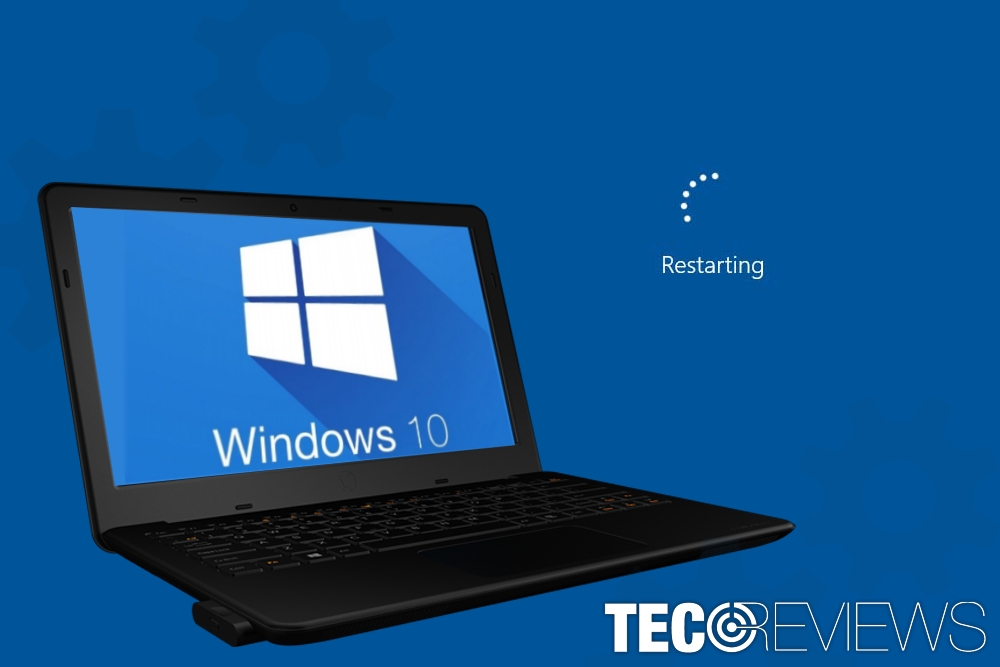 The main reasons why your computer gets stuck in the restart mode
Computer users are usually aware of how much time their machines need to restart. Based on the technical specifications, it might take a couple of seconds or a minute or two. However, this time might increase or become especially long for some reasons.
Usually, these problems are related to:
Windows 10 is unable to apply recently installed updates;

Driver-related problems;

Unresponsive processes are running in the background.
However, all of these issues can be solved quite easily by applying our suggested methods. Most of the time, it's enough to force-power the computer, and the problem is gone for good.
Four methods to fix long restart times on Windows 10 computers and laptops
We have presented four different ways how you can solve restart problem on your Windows computer. Please, start with the first – the easiest option. If it fails, then opt for the second, and so on.
Method 1. Force-power off Windows OS
If you see restart screen for a long time, it's a sign that something went wrong. However, the solution to the problem might be simple – you have to restart the system again. For that, you have to power off Windows 10.
In order to do so, you have to press and hold the Power button until the computer shuts down. Then, turn it on again. If the issue does not show up again, it may have been just a temporary issue.
Method 2. Unplug external devices and restart the computer
One of the reasons why restart time was extended on Windows 10 is some problems with external drivers. For instance, your USB flash drive, the smartphone or even keyboard might be the problem. Thus, you should unplug all the devices that are connected to your PC and force-power the device as described in the Method 1.
Updating the drivers might solve the long restart problem on Windows
If your computer successfully restarted after disconnecting these devices, you should consider updating them.[3] Outdated software or drivers might cause various problems. Thus, in order to update them, you should follow these steps:
Click Cortana icon in order to launch Windows 10 Search console.
In the search box, enter "device manager."

When the program appears among search results, open it.

You will receive the list of drivers. Right-click each of them and choose update option.

When you update all the drivers, restart the computer.
Note. You might also need to reinstall the drivers to solve the problem. For that, you have to follow the same steps, but instead of choosing "Update" option, you have to click "Uninstall."[5] Once you reboot the system, missing drivers should be installed automatically.
Method 3. Disable unresponsive processes running in the background
If the long restart issue occurred after installing Windows 10 updates, it might be related to system's inability to apply recent updates. Therefore, some unresponsive processes might be running in the background. Though, if you disable them, the problem should be solved. Follow these steps:
When in Windows loading screen, click Ctrl + Alt + Del on the keyboard.
The Task Manager app shows up.
Click each of the processes that are not needed for Windows 10 startup procedure by clicking "End task" option.
Then close the Task Manager.
Your computer should reboot normally. However, you should consider checking Windows 10 updates and reinstalling[4] them if they were the reason for the error.
Restart Windows 10 updates that triggered long restart time problem
Force-restart your computer.

When Windows reboots, right-click on the Windows start button in the lower-left corner of the screen.

Choose Command Prompt (Admin) from the appeared menu.
In the Command Prompt window type this command to stop processes that are related to the Windows update issues and hit Enter: net stop wuauserv
After executing this command, get back to the Command Prompt windows and enter this command: cd %systemroot% followed by ren SoftwareDistribution SD.old and by net start wuauserv.

Once these commands are executed, the updates should be reinstalled.
Method 4. Run Windows 10 troubleshooter
Click Cortana icon in order to access Windows search.
In the search box enter Troubleshooting and click on the result.
You will receive Troubleshoot computer problems window in the Control Panel.
Click View all option in the left panel. It will expand the list of Windows 10 troubleshooting programs.
Choose System Maintenance from the list.
Click Apply repairs automatically in the prompt.

Follow the instructions provided on the screen to run troubleshooter.

Restart the computer and check if the long restart times on Windows 10 problem was fixed.