These day's users around the world always face the risk of new generation Malware that attack us even if we have a very good security solution installed. Thousands of new malicious objects are released every day, making it more difficult to protect our machines and secure our information from their reach. You need to be careful, otherwise your machine may become infected by malware that may steal your sensitive data or it may crash your computer. You may be thinking, "So how can I protect my data from malware?", if so, we have something in stock for you.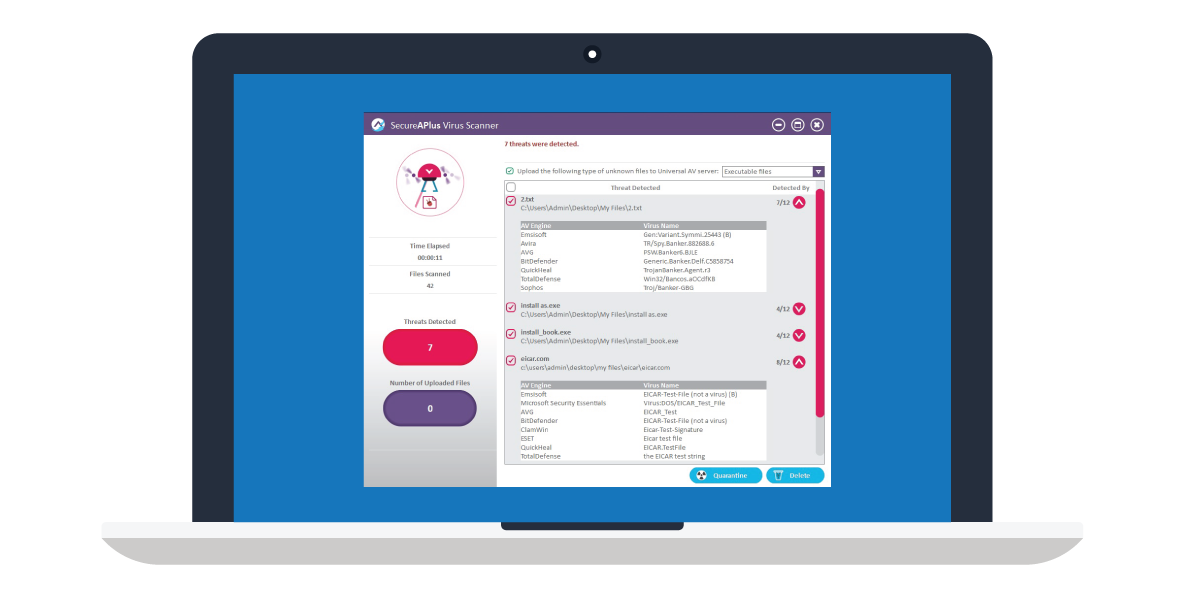 SecureAPlus, it is designed to protect your computer and data from any unknown application including unknown malware from executing. Unlike other virus protection software, SecureAPlus blocks Malware as soon as they try to execute themselves. SecureAPlus protects you from targeted attacks, zero day threats and any unknown malware. It alerts you if any harmful program or malicious scripts attempt to run.
SecureAPlus features and review
 Application Whitelisting
Once you've installed this application, it will scan your computer to learn nature of your existing applications. After the scan it builds application list. It blocks all unknown applications until you made them trusted. Only your trusted applications can run at any time. Whitelisting prevents any hidden attempts by advanced malware & worms from ever succeeding.To be honest i really love this feature as it does not let any unknown application run until we recognize it as Safe to use.
Universal AV
Universal AV is part of the Multiple Layers of Defense from SecureAPlus. It comes with more than 10 antivirus engines in cloud to protect your information from every type of known and unknown viruses , Trojan Horses , worms.This allows you to confidently stay on top of malicious attacks that pose as harmless applications all the time.
Offline AV
It protects your computer and private information from viruses even if you don't have an active internet connection. It uses Clam Antivirus as its engine which is satisfactory but not as efficient as you may require.Boasting that it's "the first solution that combines both antivirus and application whitelisting capabilities all-in-one"(A feature you might have seen in Kaspersky internet security named as trusted mode)
Detects and removes known viruses, Trojan Horses, worms.
Real-time protection 24*7.
Fast scanning of your computer.
Automatic updates.
Protects Microsoft Words, Excel and PDF files
When you install SecureAPlus for the first time, it will scan your existing application. It takes around 30 mins (may vary from device to device) while doing first scan,it searches and find every executable file to build application whitelisting . It takes some time to build the initial database.According to devs over SecureAge it takes around 1 min for full system scan after first scan and it does what it says.
Malware removal test
In our malware removal test, we tested its capability with thousands of live malwares including zero day malwares. It blocked around 95% of malwares (Thanks to 12 antivirus engines in cloud) , used around 4mb of ram while doing right click scan and around 15mb of ram overall. That's pretty good as it doesn't impact on system performance.
Web Protection 
It doesn't protect from phishing attacks and completely failed in our phishing test.It protects you from malware downloads(depends on virustotal result).In our malware download test SecureAPlus scores 80 points out of 100.
That's all folks, Hope you like it.
We welcome your opinions and questions in our comment section.
SecureAPlus provides you protection from all kind of malware's. It.It use little to low memory and does not impact on system performance.Comes with premium features such as application white-listing.