MacBooster is maintenance tool for Mac OS X. Several years ago optimization tools and malware protection for Apple products seemed suspicious because everyone believed that Macintosh devices are immune to cyber threats.[1] However, it's not true.[5] Mac users have to obtain reputable security software and once in a while check their device's state. Recently introduced MacBooster 5 by IObit offers to do these tasks.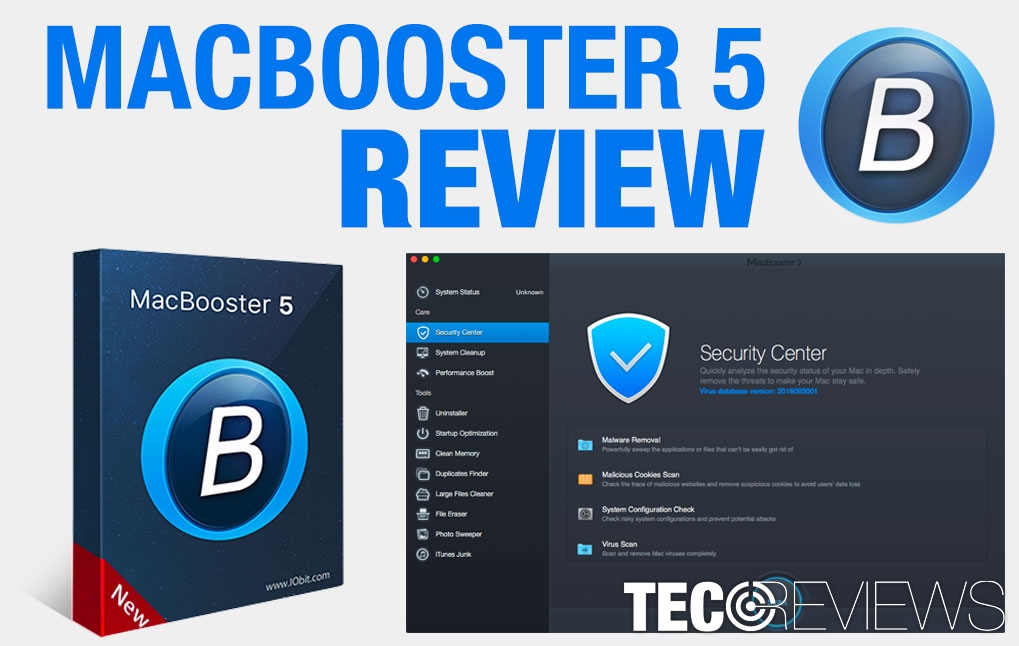 On the official site, the program is presented as a tool that helps to "Enjoy a Faster and More Secure Mac" by protecting the device from malware and viruses. What is more, the latest version of optimization software also includes new features, such as Mac Disk Defragment and Memory Clean.
The synopsis of the MacBooster
Pros:
free trial;
protection from Mac malware and viruses;
optimization and maintenance of the device;
user-friendly interface;
3 different subscription plans;
the variety of functions.
Cons:
some features are not explained clearly;
annoying "Empty trash" alert that pop-ups as soon as a new item is dragged to the Trash.
Conclusions:
rather expensive protection for Mac OS X;
easy-to-use tool;
reliable protection against viruses.
MacBooster review: The functionality of Mac security and optimization tool
The official website claims that this Mac antivirus can identify, block and remove 17 types of junk (e.g., application junk files, system cache or logs), as well as malware and viruses. Besides, it allows protecting privacy by deleting browsing-related data and boosting device's speed.
Protection from viruses and malware
The program works as a Mac antivirus that blocks potential threats and prevents them from entering the system. Therefore, it can help to avoid recently emerged MacSwift virus or MacSpy Malware.
Cleaning junk files
Mac optimization utility has three features that allow cleaning up the device from useless files or programs.
System Junk
The more you use your device, the more junk files are created on it. Not only they use space but might also negatively affect computer's performance. This Mac optimization software scans the device and cleans these entries.
Uninstaller
MacBooster software also offers to use a panel that shows programs installed on your device and allows uninstalling multiple apps at the same time.
Large Files Cleaner
The program also shows the list of files stored on the Mac. Therefore, you can quickly and conveniently delete them from the device.
Bossing the performance
OS X optimization software has three features that allow boosting device's performance:
Extensions Manager – shows the list of installed third-party extensions and allows removing them directly from the program.
Performance Booster – cleans Mac OS X and offers Application optimization, RAM optimization, and Disk permission fix features.
Startup Optimization – allows managing what apps and items are launched together with the system. Thus, by disabling some of them, you can speed up startup process.
Additional features and tools
Mac optimization software also offers three more features that allow safely delete personal or confidential files, find and remove duplicated files or pictures.
Review of three subscription plans of the MacBooster
Unfortunately, this multifunctional tool is not for free. Well, it has a free trial and allows testing the app before buying it. However, once the free trial is over, you will need to choose one subscription plan or uninstall MacBooster:
Lite for 1 Mac;
Standard for 3 Macs;
Premium for 3 Mac.

[2]
As you can see from the picture above, these plans also include different features. The smaller the plan, the fewer functions of the software you will be able to use. Therefore, in order to take advantage of all the program's features, you have to obtain the Premium plan for $89.95.
The main difference between Standard and Premium plans is that the Premium plan offers 24/7 and premium customer support; while the Standard subscription does not include this feature. It's quite strange decision of the developers to prioritize customer support service based on the subscription plan.
We can agree that smaller price means fewer features. However, proper support should be available for all users.
Verdict: is it worth investing in MacBooster?
The test and analysis of this Mac optimization tool showed that this tool does everything that is promised. The program is reliable and performs all the features smoothly. Therefore, it can definitely speed up your Macs performance and protection from the most dangerous cyber threats[4] that are lurking on each corner of the Web.
Compared to another popular, but questionable Mac security software MacKeeper, Macbooster 5 might seem expensive. Of course, price not always is a valid criterion to decide what program is worth trusting or not. However, in this case, the price tells the truth. The cheap software is questionable, does not perform properly and sometimes is called as a virus.[3]
MacBooster app is one of the best Mac security programs. Thus, you should consider obtaining it. However, first of all, you can take advantage of the free trial and test it yourself. However, we agree with the majority reviews online – this OS X optimization tool is a pretty good investment.
MacBooster has plenty of useful features and performs them properly. However, this tool might seem pricy, but before purchasing the license, users can try the free version for a while.