Ultimate Windows Tweaker 4 is one of the most popular and best tweaking programs for Windows 10[1] that allows customizing and personalizing the computer. It allows improving the system and making the OS safer, faster and more stable. This Windows tweaker is available for Windows 10 only[2] and offers more than 200 tweaks. However, you may have been aware of or used older versions of the tool for Windows 7, 8 and Vista.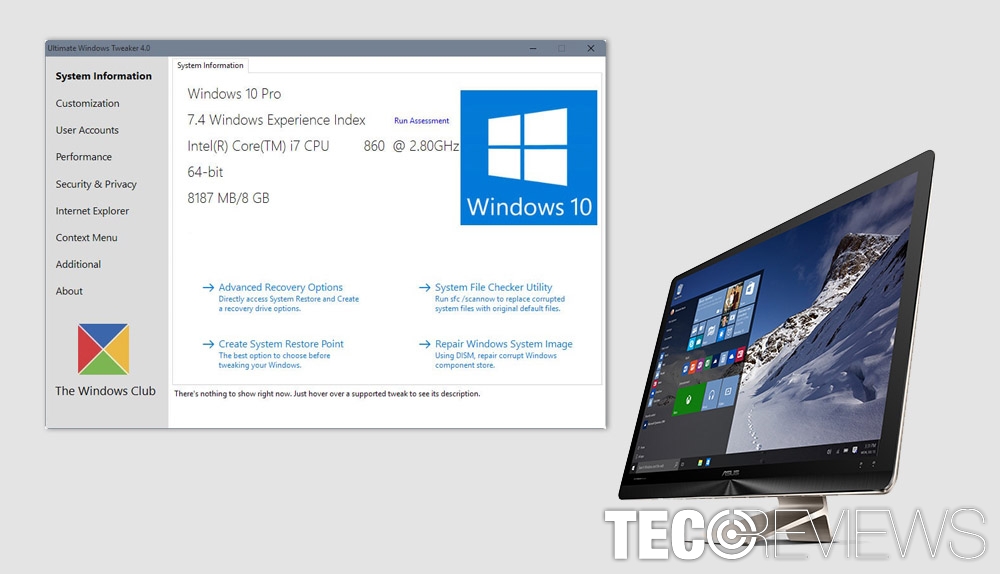 The summary of the tweaker review
Pros:
easy to use,
allows creating system restore points,
has descriptions for 200+ tweaks,
does not need proper installation,
does not push crapware,
does not include third-party programs.
Cons:
not suitable for beginners,
security software might identify this tool as potentially dangerous.
Conclusions:
great tool for tweaking Windows for skilled computer users who want to customize Windows 10.
What's new?
The program has been created for Windows 10 only. Therefore, it won't work properly on older Windows versions. However, it has two more different versions for Windows 7 and Vista users (UWT v2) and another one for Windows 8 and 8.1 (UWT v3).
Compared to previous versions, the recent tweaking tool is improved and offers more features. Reacting to privacy-related concerns, developers add few more tweaks under a Privacy category. Users can also run DISM command to repair damaged system image and pin Drives to Desktop Context Menu.
Older versions required empty.ico file for "Remove Shortcut Arrows From Icons" to work properly, but now it's not needed. Additionally, the program has a new interface, which is actually convenient.
Operation peculiarities of the Ultimate Windows Tweaker 4
This tool is suitable for developers or advanced computer users who know what they are doing. Thus, it's not the best choice for the beginners who just want to play around with their computers. By using this tool, some of the default Windows 10 features or Cortana may not work.
Download and installation
The program is available on various free download websites, such as TheWindowClub, TechSpot or Softpedia. However, when you download freeware, you have to choose reliable sources in order to avoid installing a bogus program or malware.
However, the research revealed that it does not contain adware or crapware in the software package. But you should not forget basic security tips.[3] Crooks can use the name of the program to trick you.
The program does not require installation. It's portable and arrives on the system as a zip file. All you have to do is to extract its contents and in your desired folder. The most important part is that all files should remain in the same location.
After the installation, it recommends creating a Restore Point.[4] This feature allows getting back to previous changes after you use a tweaker. Therefore, you should definitely do it.
Features of the tweaking tool
This Windows 10 optimization tool helps to tweak settings and features without accessing Windows Registry and Group Policy. Therefore, it simplifies the life by offering more than 200 tweaks in several categories, such as:
System Information,
Customization,
User Accounts,
Performance,
Security & Privacy,
Internet Explorer,
Context Menu,
Additional.
What hides under customization category?
Although Windows 10 is all about personalized experience and customization, sometimes it's complicated to find all the necessary settings. Therefore, tweaker helps to speed up this procedure and make these modifications to the system:
Customize Power menu.
Disable or enable Start Animations.
Choose the Theme.
Replace Command Prompt With Windows PowerShell On the WinX menu.
Enable/Disable access to the camera on Lock Screen.
Customize few Quick Access features.
Choose options from Windows 8/10 Style.
The program also allows modifying Taskbar, File Explorer, Modern UI and This PC. Therefore, you can disable annoying or useless Windows 10 features quickly.
Security & Privacy options
In the era of ransomware and cyber infections, having ability to enable or disable various security and privacy settings on the computer is important. Ultimate Windows Tweaker 4 allows turning on or off a bunch of Security & Privacy features,[5] such as:
Registry Editor,
Control Panel,
Task Manager,
Telemetrics,
Biometrics,
Windows Update sharing,
Password Reveal button.
Steps Recorded,
and many others (you can find the full list here.)
Context Menu tweaks
We believe it's one of the most interesting features. This category has Universal Apps, Desktop Context Menu and Desktop Context Menu 2 tabs that offer to pin more than 15 Modern apps (e.g., Music, OneNote, Store), 20 important Windows utilities (e.g., Task Manager, System Restore) and drives to the Desktop Context.
The final words of the Ultimate Windows Tweaker for Windows 10
Undoubtedly, it's a useful Windows tweaking tool that is easy to use. It reminds to create a Restore Point as soon as you start customizing your OS. Therefore, you will be able to quickly get back where you start if some of the changes went wrong. It's a free tool that allows customizing Windows 10, enabling and disabling various features and allows keeping the system smooth and fast. According to users' and experts' opinions online, it's the best tweaking tool for Windows.
The tweaker has a bunch of useful features and allows customizing Windows 10 in many ways. However, this tool is not suitable for the beginners who are not sure how tweakers work.