AOMEI Backupper[1] is a backup program for Windows operating system. It allows backing up, syncing, restoring and cloning everything you have on your PC or laptop. The program has free and paid versions that have several differences in operation and functionality. Regular computer users might be interested only in AB Standard (free) or AB Professional (paid) versions of the program. Meanwhile, developers also offer Server and Technician editions for businesses and technical services.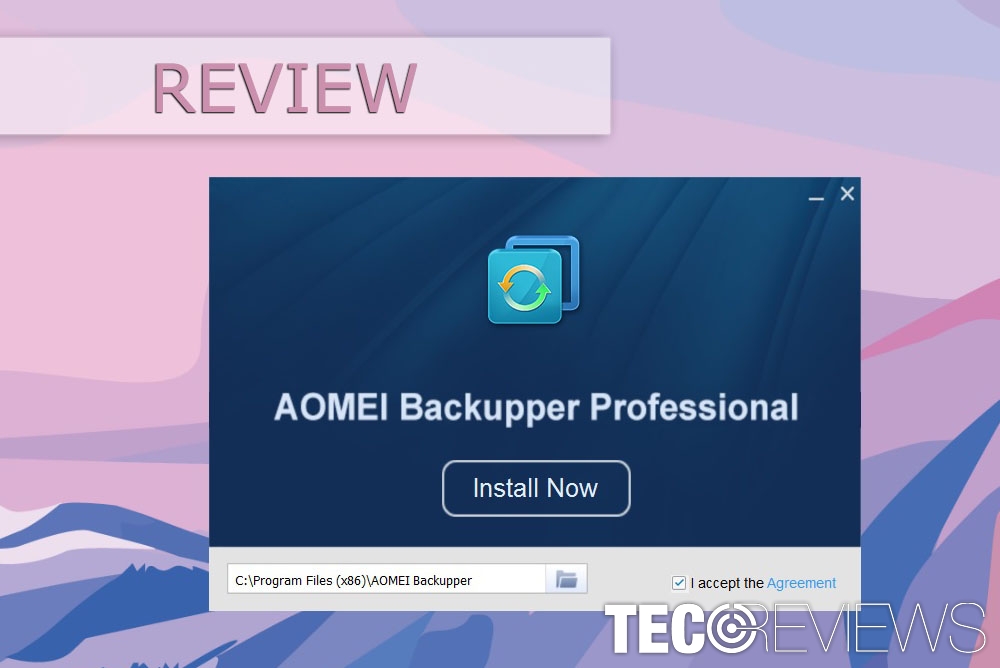 Pros:
variety of backup solutions;
free version operates as well as the paid version;
great speed of backup process;
user-friendly interface;
30-day free trial of Professional Edition;
the paid version offers a variety of additional features.
Cons:
Professional edition barely differs from the Standard version. The only difference is additional features that might not be necessary for the regular users.
Conclusions:
AOMEI Backupper Standard Edition offers great backing up solutions for free.
Major differences between AOMEI Backupper Standard and Professional versions
In general, the program offers wide options for backup [2]solutions for Standard and Professional editions. However, Professional version showed a slightly faster backup process and has a bunch of additional features.
AB Standard is a freeware that performs basic backup tasks
system, disk, partition, file and folder backup and restore;
file and folder sync;
automatic, full backup, incremental, differential backup, sector-by-sector backup, or intelligent backup;
file and folder sync;
real-time or automatic file or folder sync;
backup or sync to local disk, external hard drive, USB flash drive, CD/DVD, network or cloud drive;
explore, compress, encrypt, split, check or comment backup image;

[3]

view logs;
email notification;
create Windows PE & Linux bootable media;
Therefore, all these features of the free programs give everything you need for creating regular backups for free.  However, if it feels not enough for you, you might be interested in additional features.
Additional features of the AB Professional Edition
system clone;
universal restore;
command line utility;
merge backup images;
backup scheme;
PXE boot tool;
file filter settings;
edit the partitions on the disk;
real-time sync files or folder to the network path;
backup or restore dynamic disk volume.
In our opinion, the major downside of the AB free version compared with the paid version that it does not include merging backups feature. Combining two or more images into one allows having more organized backups if you missed some file or folder to add to your backup.
Other features of the Professional edition suits more advanced computer users who have higher expectations of the backup software. Home computer users who want to create copies of their data in order not to lose files due to ransomware attack or system crash only, it's enough to download freeware and enjoy it for the lifetime without spending $40-$50.
Simple user interface does not make it difficult to use AOMEI Backupper
Once installed and launched, the program offers to choose between a system, disk, partition or file backup or file sync features. When you choose the option you need, you receive simple window where you have to enter your preferred task name, add data you want to backup, select the location of backup and within a couple of minutes, a copy of your data is created.
Analyzing File Backup feature
In the era of ransomware attacks, having backups of your files and folders is extremely important. Thus, we assume that this feature of the AOMEI Backupper is the most important. Creating copies of this tool is easy and does not take much of the time. Of course, the time of backup procedure depends on the size of data. Obviously, you should not expect to have 10GB copied within a minute or two.
However, our test results tell that program can quite quickly backup big data without using lots of computer's CPU and preventing from normally using until the process is over.
File Backup procedure
In the File Backup window, you have to enter Task Name a.k.a the name of your backup. Then, you have to add files or folders (if you want to add subfolders, don't forget to check "Include subfolders" box). Finally, you have to choose a location where you want to save copies.
Once you click "Start Backup" button, you will see the beginning of the process. If the operation is completed successfully, you just have to click "Finish" button, and that's all. Your backups are done.
Backup Settings allows adding comments, encrypting and splitting large image files
When creating backups, you can also alter specific settings. For instance, the "Backup Settings" option hides opportunity to write a comment and add a name of the backups in order to find it easier when needed.
Additionally, AOMEI Backupper Professional allows enabling encryption for backups. However, it's not actual encryption. The only option to secure your backups is to set a password. However, if you do not feel the need to encrypt your backups,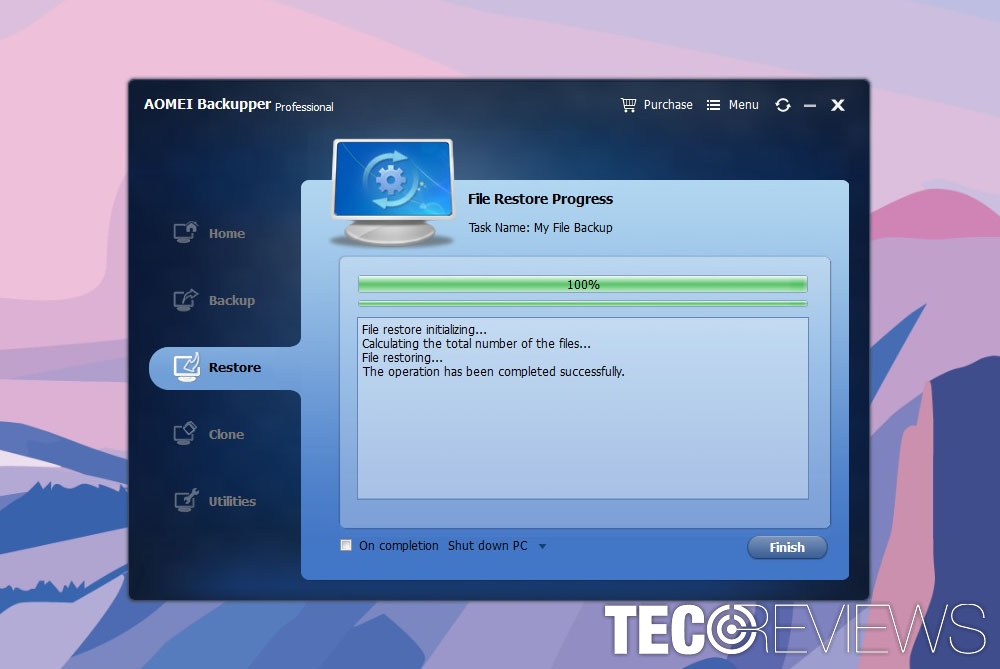 Screenshot of File Restore process with AOMEI Backupper.[/caption]
Restoring tasks or images using AOMEI Backupper is very simple too. Once you click "Restore" option in the left pane, you see the list of your backups. Click on it and follow the guide on the screen. Within marking a few checkboxes and click "Next" you can restore needed backups.
Additional features of the AOMEI Backupper: cloning the disk, system, and partition
AOMEI Backupper Profession Edition also offers to:
clone your hard disk drive to another;
cloning or migrating the system to other disks, for instance, to SSD;
cloning a partition or volume from one to another.
Cloning is easy to perform as well due to the simple user interface. However, we want to stress out this feature is only available for a paid version of the backup software. Freeware does not have this option.
Additional features that are offered for paid version users
If you want a little bit more from your backup utility, you may consider buying the license. AOMEI Backupper Pro also offers users these extra features:
checking image – allows checking data integrity of the backup image;
creating bootable media – allows saving files in CD/DV or USB drives;
exploring image – allows mounting images to a virtual partition in order to browse via My Computer;
merging images – allows staying organized by giving an opportunity to merge two backups into one;
importing or exporting configuration file – allows managing backup tasks by importing or exporting configuration files;
AOMEI PXE Boot tool – allows loading micro-system on network or system maintenance;
viewings logs – allows accessing records of the backup process.
As we have already mentioned, merging feature seems to be the most useful. However, we have doubts that it's a valid reason to obtain a license. It's wiser to create a new backup and add new files or the ones you forgot.
The verdict: AOMEI Backupper Standard Editions is one of the best choices on the market
In this review, we tried to compare paid and free versions of the program. Developers usually limit the functionality of the free version in order to convince people into buying the license. However, authors of the AOMEI Backupper freeware gives all the major backup features for free. Thus, you do not need to spend any dollar for expensive and hard to use software; you can download it for free from the developer's website.
Meanwhile, AOMEI Backupper Professional version gives advanced functionality for people who know what they are doing. Though, we do not think that home computer users should spend money on the license. The free version is more than enough, and we highly recommend at least trying it!
AB Standard version is definitely one of the best choices for creating backups. However, we do not feel that home computer users need AB Professional version with all its additional features.