MSVCP140.dll is Missing error might occur anytime when you try to open programs on Windows operating system. Users reported about the appearance of the error when they tried to launch Skype and various gaming apps. Just like the name of the error suggests, the problem is triggered by the MSVCP140.dll file which might be missing or corrupted. Therefore, to fix the issue you might identify and restore the DLL file.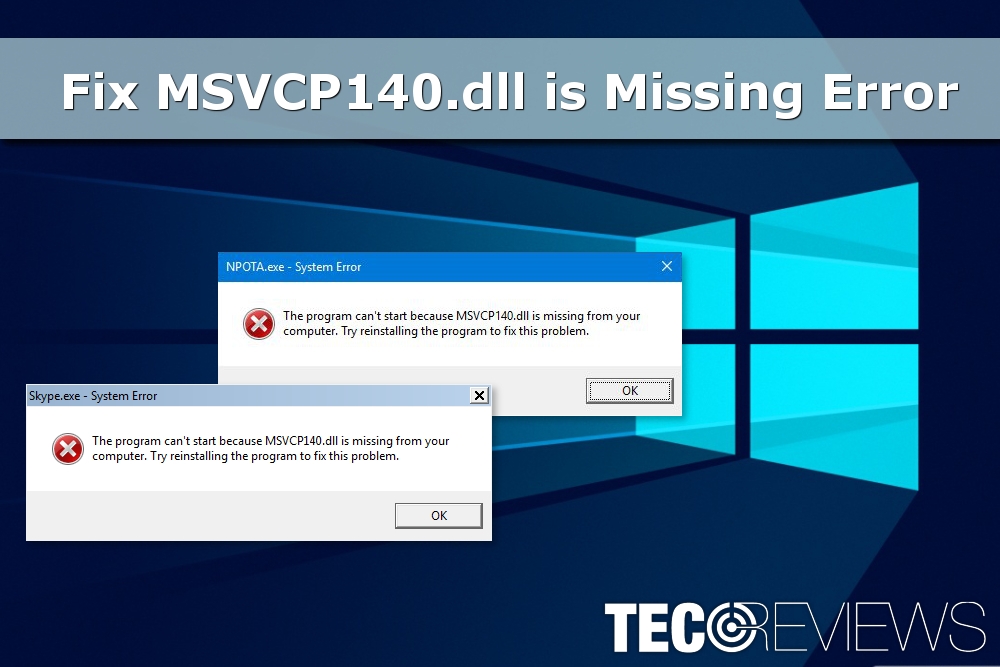 What is MSVCP140.dll and why it is so important?
MSVCP140.dll file is a Microsoft C Runtime Library file which is installed by Microsoft Visual Studio in System 32 folder.
Computer errors caused by DLL files[1] are quite common. DLL or Dynamic Link Libraries are the part of Windows operating system and programs. They include particular information or tasks that software might need to perform. Often different applications share the same DLL file, for instance, printing documents.
Problems might occur when something goes wrong with the file, and the program cannot complete particular tasks. Sometimes different programs can corrupt, delete or overwrite the DLL file. Therefore, other problems are unable to work properly. However, such issues as MSVCP140.dll is missing error can be fixed by updating or fixing the DLL file.
Skype triggers "MSVCP140.dll is missing" error the most
It is reported that 7.33.0.104 version[2] of the popular communication program Skype is the one that triggers the error the most. It seems that the problem is related to Skype's operation peculiarities.
This version of the program requires Microsoft Visual С++ 2015 Redistributable package. However, if Windows operating system does not have it installed, the program is unable to find necessary DLL library. As a result, the "MSVCP140.dll is missing" error pops up on the screen.
However, as mentioned before, other programs might deliver this problem as well. Specialists also point out that this error is related to "vcruntime140.dll"[3] and "api-ms-win-crt-runtime-l1-1-0.dll is missing"[4] errors. Therefore, you should fix them all to solve the problem entirely.
Warning: do not install missing DLL files manually
Downloading and installing MSVCP140.dll file might seem an option for some of you. However, it is not the best solution to the problem. Here are the reasons why:[5]
DLL download sites are not official sources. DLL files are created by software developers, such as Microsoft. If you download the file from unauthorized third-party sources, you cannot be sure if it really fixes the problem.
Installation of single DLL problem does not help to solve the main problem. Missing or corrupted MSVCP140.dll file might be caused by a bigger software-related issue. Thus, fixing this issue should be your priority.
DLL download sites might provide outdated files. Software developers rarely offer to download single DLL files because they are included in the software package. Therefore, third-party download sites might not have the latest version of MSVCP140.dll.
Therefore, in order to fix "MSVCP140.dll is Missing Error" and avoid cyber threats, try our prepared methods below.
Methods to fix "MSVCP140.dll is missing" error in Windows OS
Below you can find 4 different methods to solve MSVCP140.dll is missing error. Start from the first and finish with the more difficult solutions.
Method 1. Check the Recycle bin
You may have accidentally deleted the MSVCP140.dll file. Thus, you should check the Recycle Bin and look up for this file:
Open the Recycle Bin.
Enter the name of the DLL file into the search box.
If you find it among search results, double-click it and choose Restore option.
Method 2. Reinstall the program that triggered the MSVCP140.dll error
Access Control Panel via Start or Windows search box.
Go to Uninstall a Program (or Add/Remove programs).
Find the program that triggered the error once you tried to launch it in the list of installed apps. Right-click it and choose Uninstall option.
Once the uninstallation completes, reboot your PC and download the same program again.
Method 3. Install available updates
Software updates might include the fix for MSVCP140.dll error. Therefore, you should check for Windows updates:
Press Windows Key + I.
Go to Updates & Security.
Click Check for Updates option.
Wait until OS stops scanning for the updates and install available entries.
Restart the computer and check if the MSVCP140.dll error is gone.
Method 4. Run sfc /scannow command
Running System File Checker is another way that can help to solve the problem:
Right-click Windows key.
From the appeared drop-down menu, choose Command Prompt (Admin).
Type sfc /scannow command into the command prompt and click enter.
Once the scan is over, you will receive a notification about detected and fixed corrupted files.
Bonus: scan the system for viruses
If none of the methods above helped, you might be dealing with a computer virus. Various cyber threats might corrupt DLL and other system files. For this reason, you should scan the system with reputable antivirus. The security software will remove malware, and this might fix MSVCP140.dll error.