Weather Apps Designed for You
Travelling takes up all your time? Whether on a business trip or planning a grand voyage with a family, being aware of current weather forecasts becomes a necessity rather than convenience. Naturally, few of us have time to look up a weather forecast on a specific website or watch a TV report. Here come weather apps for the rescue. But which should you choose? Take a look at the short reviews of ten programs which might meet your needs best.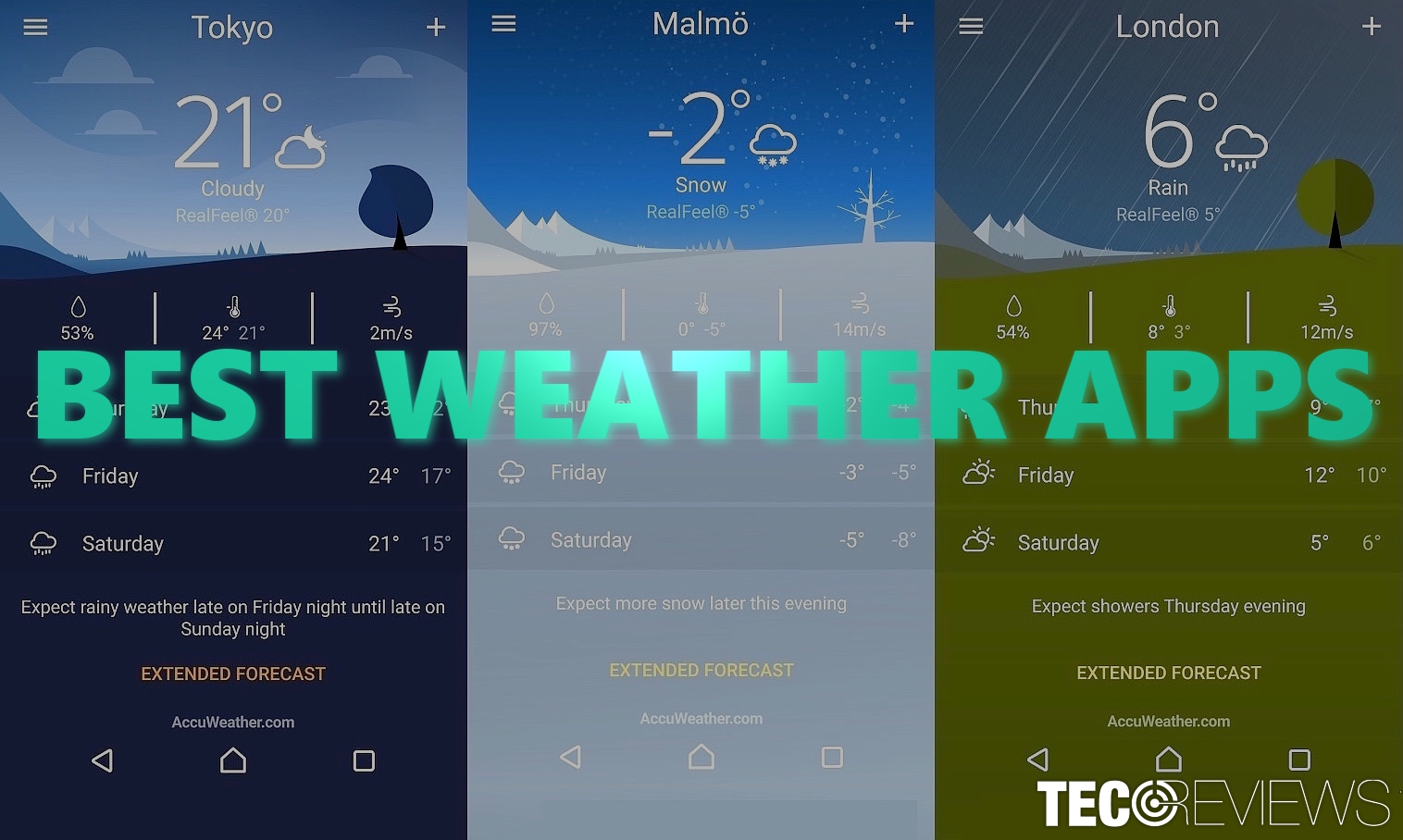 The Weather Network (free, Windows)
Users, who tend to cross geographical zones several days a week or even more often, might value this software as it alerts of current weather changes.
On the other hand, if you happen to be in Tokyo, and you have got an alert about a coming downpour in Cairo might not be so relevant.
On the other, if you value accuracy, you will enjoy detailed reports. The app will give you all necessary information ranging from humidity to wind changes within the coming 14 days.[1]
The app grants the opportunity to check measurement units in different locations. Beat the Traffic function informs drivers of current traffic conditions in their areas.
Weather Underground (free; iPhone)
This application focuses on delivering accurate and precise information. Though its design might not be as amazing as other more visuals-oriented app, you will enjoy smaller details such as precipitation level.
Weather Underground presents you ten day and hourly forecasts. Furthermore, you will receive weather alerts corresponding to your location.
Unlike other apps, it also presents a social weather forecast.[2] The apps is free, but if ads annoy you, you can purchase the premium version.
1Weather (free; Android)
The software delivers clear and customized design giving you necessary information about current weather conditions. It is fully compatible with Android Wear gadgets.
The application has many widgets, and bugs in the software code may result in occasional crashes. The app is perfect for those, who prefer the design and few details over excessive amount of information.
RainAware (free; universal)
If objectiveness is a pursued virtue, then RainAware should be certainly of interest to you.
Not to mention that it operates sufficiently in different operating systems, it delivers you up-to-date information based on satellite information.
The utility also displays storm travel paths, which might be especially relevant for netizens residing in areas near the ocean or sea.
Moreover, it even estimates the duration of rain or a storm.[3] It concentrates on short term forecasting rather than a general several days' forecast.
Dark Sky (free, universal)
The app tries to appeal to netizens with multiple widgets and up-to-minute weather forecast. It focuses on precipitation, though also keeps you informed with a general forecast.
Users database is one of the features which are worth attention. By sending a report, you may get a live and genuine response from a person about the weather in his specific location.[4]
It offers both, free and paid versions. You can use premium versions as long as you are satisfied with a limited set of functionalities.
National Weather Service (free, Android)
This small-scale application delivers you hourly weather forecast depending on your location. It is not officially certified, but it consumes significantly less battery energy than official apps.
Due to the same fact, the application is free of ads. There are also radar, advisories, weather alerts and widgets integrated into the program.
Weather Timeline ($1.49; Android)
By swiping the weather cards, you can look up the temperature, humidity, precipitation, pressure and other details. It has a pleasant design which is not overcrowded with information blocks.
The app also provides multiple widgets. Mood viewer serves as a more entertaining feature. Weather Timelines delivers the forecast for the current hour, 48 hours and the next week.
The application includes a time machine feature: you can check the weather forecast several decades back in time or several years in the future.
RadarScope ($9.99; iPhones)
The application might look especially interesting for weather enthusiasts as it delivers high-resolution radar maps based on NEXRAD Level 3 radar data. Thus, tracking cyclones and storms will be easier and more entertaining.
With the level 3 data, users will be able to track reflectivity, velocity. A specific guide is available for users who are not used to reading such information.
The application is a bit costly, especially the Mac version – $29.99 and it may not fulfill the needs for a general forecast and design. However, if you are into meteorology, this NEXRAD Level 3 based radar app is worth money.
MeteoEarth ($3.09 or $5.99, Android)
The application grants you stunning 3D views. The app allows you to zoom into a particular place on the globe to find out about the weather. You can pinpoint several layers of weather to discover pressure, humidity, and precipitation levels on certain locations of the world.
The app allows you save several locations. Storm tracker is also included. Subscription plans offer you ad-free and enhancing viewing services. Though several bugs may occur, the application is constantly improved by the company.
The Weather Channel (free; iPhone)
The app grants you an hourly, daily and 15 days accurate weather forecast. Besides the information on humidity, precipitation, and temperature, the application indicates UV index.
It also includes road weather tracking. Besides weather forecast, the application also gives details about national storms, significant scientific discoveries, and entertaining nature videos.
The attractive design will especially look good on Apple Watch as the app is compatible with the Apple Wear. If you put up with an excessive amount of ads, this application meets your demands for a functional app with a pleasant design.