Mac Tonic is one of the annoying potentially unwanted programs (PUP)[1] that pretend to be useful system optimization tools. Developed in India, this fraudulent Mac cleaner usually sneaks into the system unnoticed. Immediately it starts scanning the system looking for various security, privacy or system-related problems. The purpose of the PUP is to make you believe that your Mac OS X laptop or computer needs professional help to fix the device. However, it's a paid service. Should you pay for it? Absolutely not! Mac Tonic barely gives true scan results. Indian developers only want to trick inexperienced computer users into spending a couple of dollars for useless program's license.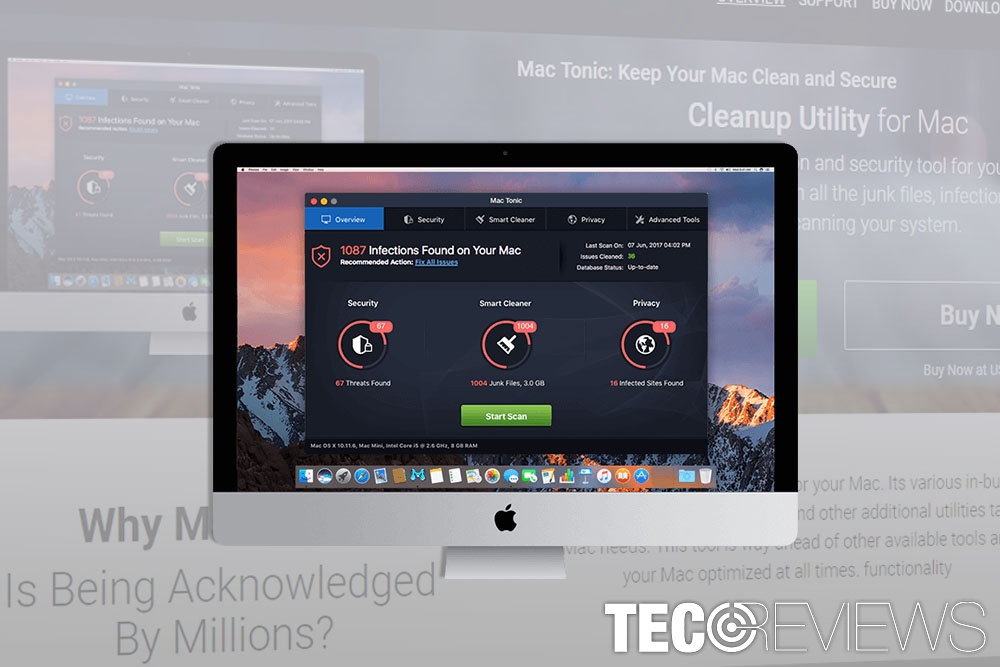 Cons:
Infiltrates the system using fake updates and bundling;
Delivers exaggerated or fake system scan results;
Runs in the background;
Displays annoying pop-ups about computer-related problems;
Starts system scans unexpectedly.
Conclusion:
It's a potentially unwanted program that is used for promoting Mac Tonic license. It's not recommended to use it.
Developers of the potentially unwanted programs often use altered names of well-known software or mimic their operation. Mac Tonic is also a computer repair service in Oregon and has nothing in common with shady activities of the potentially unwanted application we are discussing in this article.
The legitimate service operators noted in their website about a shady activity of so-called Mac Tonic virus:
WARNING: There's a malicious "cleanup" app from India floating around called "Mac Tonic" (mactonic.net). This is NOT our product, and we are making every effort to resolve this identity confusion. If you're one of many innocent victims of this software, please report mactonic.net to GoDaddy and/or your preferred review site. Thanks.
Fake Mac cleaner infiltrates machines using tricky methods
Developers of Mac Tonic use three methods to spread their shady application:
mactonic.net website
fake Adobe updates
These are typical PUP distribution methods ever computer users should be aware of. They allow entering the machines unnoticed by tricking a user into downloading misleading components.
Due to the sneaky and silent infiltration, this program is often referred to as Mac Tonic virus. We want to point out that it's not a correct term to describe it. It's only a potentially unwanted program that cannot damage your Mac. However, it should not be kept on the system.
The official website lies about benefits of the Mac cleanup utility
If you are looking for a Mac optimization or cleanup software, you may have encountered mactonic.net website. The official website is often a benefit. It gives a sense of credibility and might encourage to download shady tool.
Developers put lots of lies on the official website, such as claiming to be a number one maintenance tool for Mac. They also stress out the advantages of the system optimization tool:
Mac Tonic is a terrific optimization and security tool for your Mac machine that lets you identify and clean all the junk files, infections and other threats by scanning your system.
However, downloading and paying 39.99 USD for the program is just a waste of money. If you really need a Mac optimization tool to clean up your Mac, you should continue looking up for a legitimate software.[4]
Fake Adobe updates spread this potentially unwanted program
The main distribution method of the so-called Mac Tonic virus is fake Adobe Flash Player[5] and Adobe Shockwave updates. Thus, you should be very careful with them.
Fake updates usually pop-up on high-risk websites, such as illegal movie streaming websites, adult-themed sites, gaming, gambling or similar shady places online.
Keep in mind that legitimate updates are available on the official Adobe website or pop-up on the computer's screen in a program window. All other pop-ups asking to install updates are fake and spread PUPs or malware.
Software bundling is a legitimate, but sneaky marketing method. Any free program you download from the Internet might include additional components, such as PC optimization tools, antivirus, browser extensions, and many other apps that might seem useful.
However, this software marketing method is very popular among developers of PUPs. Mac Tonic program is not an option. This app has been noticed spreading with various free programs, such as PDF converters, video players, graphic design programs.
Paying attention to software installation reduces the risk of installing useless tools
Downloading and installing freeware requires paying attention. Using questionable sources and just clicking "Next" button without reading notifications is the straight way to install crapware[3] on your machine. When downloading software, you should follow these security tips:
Use legitimate download sources. Choose developers' websites instead of torrents or P2P networks.
Read Terms of Use, Privacy Policy, and other provided documents to ensure that you are not installing additional tools and have your privacy protected.
Use Advanced/Custom installation mode instead of Quick/Recommended because it allows additional apps hidden in the installer.
Attentively read information in each installation step and unmark all pre-selected additional downloads.
Fraudulent computer optimization software delivers fake scan results
Using the name of legitimate computer repair service helps to create a credible and reliable image of the program. However, security experts note that unexpectedly appeared programs cannot be trusted.
Once inside, this app adds the corresponding object to login items in order to boot every time when a user turns on Mac. The program is designed to start a system scan immediately. Thus, it starts looking for:
duplicate files,
disk usage issues,
failed downloads,
Flash bugs,
memory issues,
security problems.
There is no doubt that these are the main features that users expect from PC optimization and cleaning software. But as it was mentioned before, this tool does not operate in the way it is supposed to. All detected problems are fake and used only to scare users into taking some action. In this situation – to pay for Mac cleanup.
 The real purpose of the free Mac Tonic program
The free version of fake PC optimization tool is used for promoting the license of Mac Tonic which costs 39.99 USD. Fake system scan results might scare people and encourage them to reach their credit card and buy the license. However, it's a mistake.
If unexpected system scans or continuously appearing pop-up reminders about computer-related issues bothers you, you should check your computer for PUPs. You can obtain a reliable Mac security software and run a full system scan. Additionally, you can get rid of Mac Tonic manually.
Uninstall Mac Tonic to keep your Mac free of unwanted apps
Some tasks related to PUP might be hidden. Follow these steps to ensure correct Mac Tonic removal:
Access Finder and click Go.
Click Go to Folder.
Type ~/Library.
Now access Applications Support folder.
Click on Tonic folder and move it to Trash.
Find Launch Agents folder and move it to Trash too.
Mac Tonic is a useless Mac optimization tool that provides fake scan results in order to trick people into buying the license of the software.