BleepingComputer.com Review: Dedicated to Educate Users About Ransomware Prevention
If you have ever encountered a really complex computer issue or sophisticated malware and you seemed to reach the dead-end, you might have come across bleepingcomputer.com. It is the website which focuses on every sort of malware and provides advice on elimination options. You will also likely to find the solution to a Windows, Mac, Linux, Android, or iOS errors. Thus, let us take a glimpse to this cyber security giant.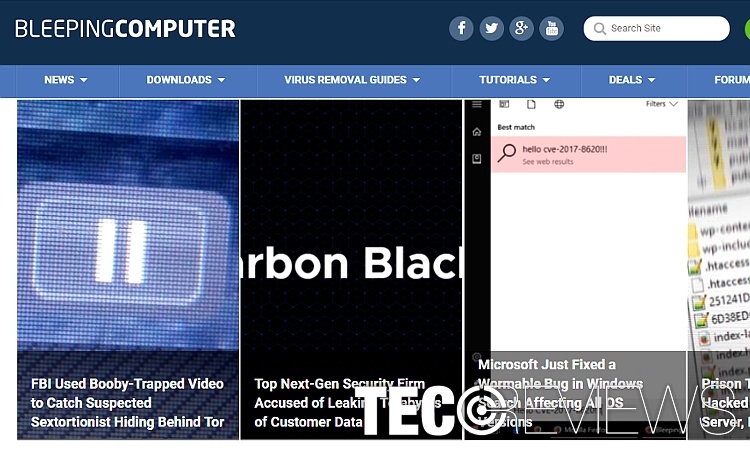 What makes BleepingComputer.com different from others
The website was founded by an IT expert Lawrence Abrams. Now, in the age of modern technologies, you might find tons of cyber security-oriented sites. All of them seem to deliver you up-to-date information about current IT trends. What excludes Bleeping Computer from others are several key aspects.
Key aspects of BleepingComputer.com
The website is dedicated to delivering objective information about viruses and software. Thus, if you are looking for a most honest review about certain software or tool which is not sponsored by the very manufacturer, you can surely find such information there.
Articles are written by IT professionals. Not only ordinary netizens will find crucial facts about a certain virus or system error, but fellow cyber security specialists are likely to find the articles informative and practical. Such IT "celebrities" as Michael Gillespie, better known under the username of demonslay335, work for bleepingcomputer.com. Another noteworthy specialist is the one whose articles daily occur on the front page – Catalin Cimpanu.
Reviews are always based on software and malware test results. The researchers attempt to fully investigate the object in order to come up with an unbiased conclusion. Some companies t specifically ask for Bleeping Computer's reviews of their specific products.
Forums. This is another cornerstone of the website. If you are desperately looking for an answer to a system error or suddenly "blue-screen-of-death" (BSOD) flashes on the screen, you might expect a valuable advice or solution from other registered members.
Review of Bleepingcomputer.com sections
Ransomware section
The latter section is divided into multiple subsections sorted according to topics. In the ransomware section, you can look up about information certain virus and its technical peculiarities. Since the form is linked to the website – IDransomware – created by Michael Gillespie, you can submit a ransom note and identify it.
Forums section
In the Forums section, Mac OS, Linux, and users of the latest as well as older versions of Windows will find advice how to troubleshoot system problems and errors. If you are about to buy a new computer but have no idea what RAM or GHz indicates, look up Questions and Answers Buying a new Computer.
Virus Removal Guides section
Besides Virus Removal Guides, where explicit manual and automatic instructions are provided to assist netizens to deal with adware, spyware, backdoors, rootkits, crypto-malware and other malware of sorts, the Tutorial section is worth interest. The tutorials vary in complexity: from instructions how to open a bookmark in Chrome to Trojan elimination guidelines.
News section
Finally, if you a true IT geek and can't last a day without reading a piece of news, News section[1] will quench your thirst with intricate details from the cyber security world.
Are there are drawbacks in BleepingComputer.com?
Despite the unquestionable contribution in the cyber security, Bleeping Computer has certain features which need to be polished.
BleepingComputer.com issues
Due to the popularity of the site, its members, and the constantly expanding virus world, users may not always receive an answer to their inquiry in Forums section soon. It is understandable that a bug in Windows may be getting on your nerves. However, administrators may not always respond quickly.[2]
Secondly, some members may dislike the fact that advice and instructions are provided by individuals rather than by an acclaimed cyber security company[3]. On the other hand, such feature might be the key strength of the website.
Final verdict: the website you can trust
There are several reasons why the opinions of BleepingComputer experts are so valued: some value the site for effective virus removal guides, others for catchy and original news articles, the third for the daily effort to battle ransomware.
However, the main reason is objectiveness. Even though some software developers dislike BleepingComputer.com experts remarks about their certain products, the intention to deliver only accurate and relevant information is what earns netizen's trust.
With few slight drawbacks, BleepingComputer earns 4.8 stars.