Avira Total Security: Sufficient Protection Against Malware
If you are looking for a new anti-virus tool, Avira brand name might be one of the couple ones which immediately come to mind. Avira Operations GmbH & Co. KG, the founding company, has been successfully operating since 1986. Since then, it has managed to evolve into one of the largest software development companies which products are widely spread and popular. By meeting users' needs and observing latest trends in the cyber world, the manufacturer has fortified its position as an acclaimed anti-virus tool developer. Naturally, if you took the liking of its brand products or simply are curious to test them, you might quickly get puzzled looking for a right application in the myriad of programs offered by the company.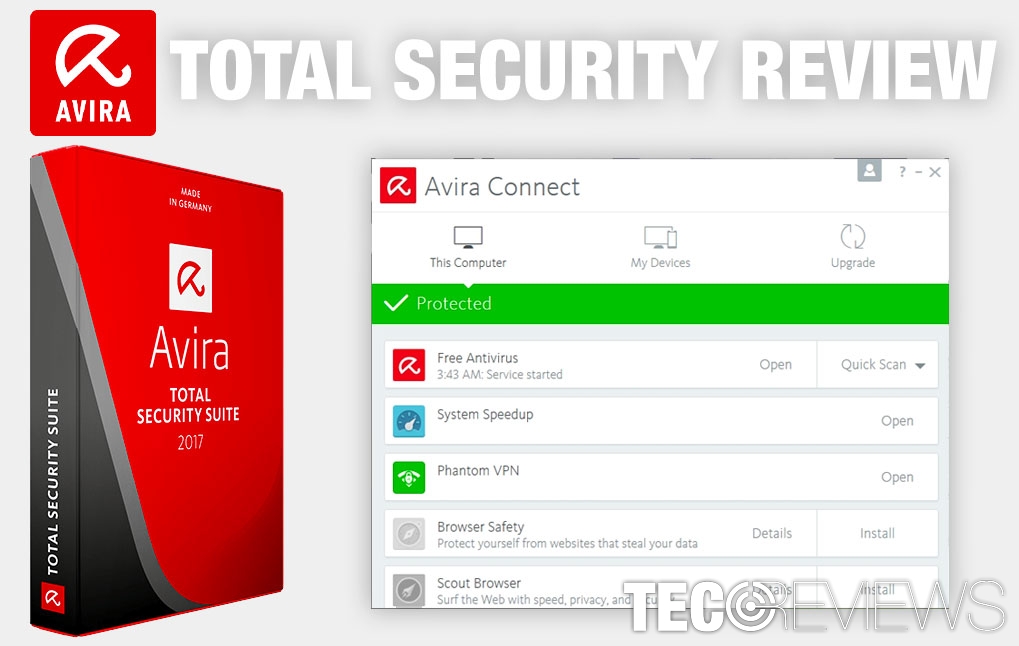 Avira Antivirus, Optimization Suite, Internet Security Suite and Many More
It is no wonder that the company has earned the reputation of a prominent anti-virus software developer with so many app versions at hand. Users searching for free protection might be interested in free Avira Antivirus, which is compatible both, with Mac and Windows OS.
It is introduced as the tool capable of blocking infected websites, securing your banking operations and offering free tech support services. On the other hand, users may also purchase its paid version, which includes several additional features. There is also another version, Avira Antivirus Pro, offered for 35,99 USD. It is enhanced with anti-ransomware and identity protection. The tool offers real-time cloud updates and email scans as well.
Optimization Suite functions as the set of Avira Antivirus Pro and System Speed Up. The integrated features should enhance the PC as well as the browser performance. Besides the anti-virus tools, the company offers their Software Updater as well as the unique Avira Scout browser. Android users may also find Avira Antivirus Security and Internet Security add-ons to secure their browsing sessions. They work best on Firefox and Chrome browsers. Usually, all of their products are rated 4 or 4,5 stars.
Avira Total Security Suite: Is It Perfect?
With so many versions, some users might miss for the all-in-one tool. On the other hand, the company foresaw it and has introduced Total Security Suite in 2017. It is introduced as the program which encompasses all previous PC-process enhancing tools as well as the key advantages of previous antivirus versions.
Users who have bittersweet experience from encountering a file-encrypting threat might welcome Total Security Suite ransomware protection and regular scans of removal devices. It encompasses Phantom VPN Pro, Antivirus Pro, Firewall Manager, and System Speedup Pro. Phantom VPN Pro grants you access to 20 servers in Europe and North America. It is especially relevant for netizens who prefer keeping their online activities anonymous.
Its "kill switch" feature especially comes in handy of your traffic or Internet connection gets compromised. System Speedup Pro offers Expert Mode for more proficient users who are interested in dealing with error and registry issues more thoroughly. In case you corrupt files, it lets you revert to the previous restore point. Moreover, Total Security Suite may appeal to users who want to enter certain websites or watch TV series but face geolocation restrictions.
Speaking of the protection against malware, Avira Total Security Suite performs significantly in diverting you from malicious URLs. It is praised for its overall malware protection. On top of that, such protection is offered for free which is especially relevant for netizen with a low budget. The Avira Connect helps you monitor the installed features and uninstall some of them according to your liking.
Netizens who are interested in how this tool specifically performs in malware blocking might be pleased to know that Total Security Suite performed well in AV-Test Institute four tests and MRG-Effitas test. The suite earned 16, 8 points out of 18 total.
Furthermore, the edition includes browser extensions which ensure that users browse efficiently and shop online safely. Browser Safety extension also blocks trackers, connects to websites which only maintain HTTP connections and even assists users in finding relevant deals.
One of the most anticipated features is Password Manager. Its key purpose is to ensure the safety of your passwords and log-in credentials. Due to numerous data breach accidents in 2016, the fact that netizens still opt for such plain phrases as "password123" has frequently been escalated. The tool helps you manage your passwords by using a master password. In order to use it, you will have to log-in to Avira account first. Though it does not fill in the right password right after accessing a certain website, it facilitates your log-in process by suggesting your several password options.
Avira Total Security Suite Has its Drawbacks Too
While it indeed contains a set of highly practical features, it has its cons as well. Here is a summary of them:
Only certain number of features are available for free. For instance, Phantom VPN offers you secure and encrypted access to the Internet; it only grants you 1GB data per month.
Software Updater requires much more manual management and restarts the device frequently
During the anti-phishing tests, the software did not perform well. It only managed to detect 1/3 of phishing scams.

[3]

Password Manager lets you incorporate the password from other providers' but fails to record more elaborate passwords presented in a two- lines
Lengthy installation and occasional uninstallation problems
Manual scans take much time. During them, the computer processes slow down as well.
Avira Total Security: to Choose or Not to Choose?
Summing up, as for a free version, the anti-virus offers proper protection from virtual threats. Users who wish to experience all the benefits might purchase it for $87,99/a year for one device.
Since the Suite happens to be the compilation of numerous tools rather than integral totality and long boot time, the application is rated 2.8 stars which is average. Avira proves its reputation once again. Depending on whether you shop online or wish for overall protection from cyber assaults while browsing, Avira Total Security Suite might be the right choice for you.