AirVPN is one of the best VPN (Virtual Private Network)[1] providers that are available for people who want to bypass geo-restrictions, keep their browsing the Web as private and secure as possible, or other reasons. Although, the majority of VPN providers claim to be "the best," not all of them keeps their promise. Therefore, it's not easy to choose and find the best VPN. We can assure that AirVPN is one of the best choices available in the market.[2] The small Italian company created it based on OpenVPN.[3] It offers high-level security and privacy for a reasonable price.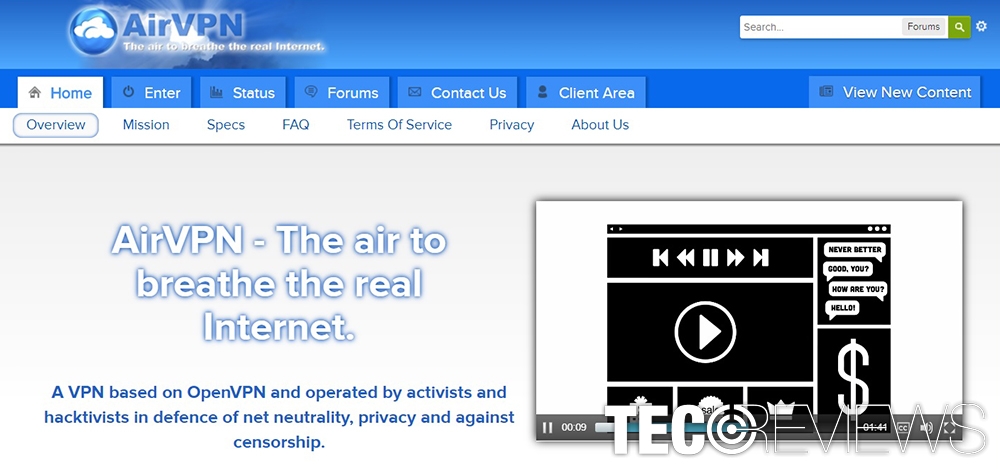 The summary of the AirVPN review
Pros:
high-level security by using a combination of AES and RSA encryption;
privacy protection and clear privacy policy;
shared IP address;
allows accessing detailed server information;
compatibility with the majority devices and operating systems.
Cons:
possible negative feedback on download and upload speed based on the location;
highly-technical options and setup might be challenging for not so skilled users.
Conclusions:
offers reputable and high-quality security and privacy;
adequate pricing;
might be hard to configure and use at the first time.
Features and services offered by the VPN provider
This VPN service allows accessing more than 60 services in 14 different countries and allows establishing up to three simultaneous connections per account.  The official website tells that it is:
"A VPN based on OpenVPN and operated by activists and hacktivists in defence of net neutrality, privacy and against censorship."
However, this VPN provider offers not only online privacy and security, but also reliable, fast and "transparent" service – all the features that users are looking for.
Anonymity and privacy
In order to use AirVPN, users have to create an account and purchase a subscription plan. However, users can use a disposable email account and make the payment via Bitcoins.
The service also allows hiding true IP address by supporting connections via Tor anonymity network.[4] Additionally, it allows connecting to particular servers that have a specific IP address, so users share it. In this way user's behavior online, traffic or used protocol becomes impossible to identify even for your ISP.
What is more, this service is compliant with European Union directives:
Directive on Data Protection (95/46/EC);
Directive concerning the processing of personal data and the protection of privacy (2002/58/EC).
Security
This VPN service ensures that connections between computers and Wi-Fi hotspots are secured. Besides, it secures Internet connection[5] by encrypting data 256-bit AES-CBC encryption, with 4096-bit RSA key encryption. It's a high-level encryption that assures that personal or non-personal information is accessible to anyone.
One of the significant features is Perfect Forward Secrecy. For each browsing session, it creates a new and unique Diffie-Hellman key that ensures data protection if a private key on the HTTPS website is compromised. What is more, the program applies re-keying feature every 60 minutes.
Other features
provide connections via SSL and SSH tunneling; however, it might slow down the Internet connection;
support of dynamic port forwarding on ports 80 TCP / UDP, 443 TCP / UDP and 53 TCP / UDP.
anti-ICE/ICANN censorship;
allowance of all secure protocols.
Technical details and operation
This VPN app is compatible with the majority of operating systems and devices, such as  Windows, Linux, Mac OS X, iOS, Android, dd-wrt, Tomato and other Routers.
Another important and appreciated aspect of the program is that offers "transparent" operation. It means that users can access detailed information about the server, for instance, how many users it has and how busy the server is.
The official website declares that there's no maximum speed limit, and it depends on server load. However, the research revealed that speed might be quite low based on user's location. However, the biggest negative impact was noticed when connecting through Tor.
Another issue is a high-technical language. The AirVPN's Eddie is not a simple client. Of course, having lots of features and options might be great. However, if you are not a high-skilled user and lack of terminology, it might take a while to set up VPN configuration and figure out what is what.
The VPN service is not for free
Great things rarely are for free. Hence, in order to take advantage of VPN benefits, you will have to choose a subscription plan:
three days: 1 €
one month:7 €
three months: 15 € (5 €/m)
six months: 30 € (5 €/m)
one year: 54 € (4.50 €/m)
Compared to Nord VPN, AirVPN offers lower prices and allows choosing your preferred currency – euros, dollars or Bitcoins.
The final words of the VPN review
In conclusion, AirVPN is credible service that protects user's data, uses military-grade encryption and lots of advanced configuration features that allows getting the best experience. Nevertheless, it's actually one of the best VPN providers; perfect programs do not exist. Thus, this VPN may not be the best and easiest tool for beginners. But on the other hand, all the necessary information are provided on the official website. Besides, users can get necessary help in the forum.
AirVPN offers maximum protection, security, and anonymity. However, it might be complicated to use for beginners due to the accessive features and highly-technical language.