RDN/TROJAN.WORM!055BCCAC9FEC pop-up is a fake alert that warns about detected dangerous cyber infection on the computer. It's an example of technical support scam[1] that targets Windows computer users. The purpose of this hoax is to trick people into calling a technical support staff. It goes without saying that you should not do that. People standing behind this scam might be willing to obtain your personal information, steal your money,[2] get access to your computer or install malware on your PC.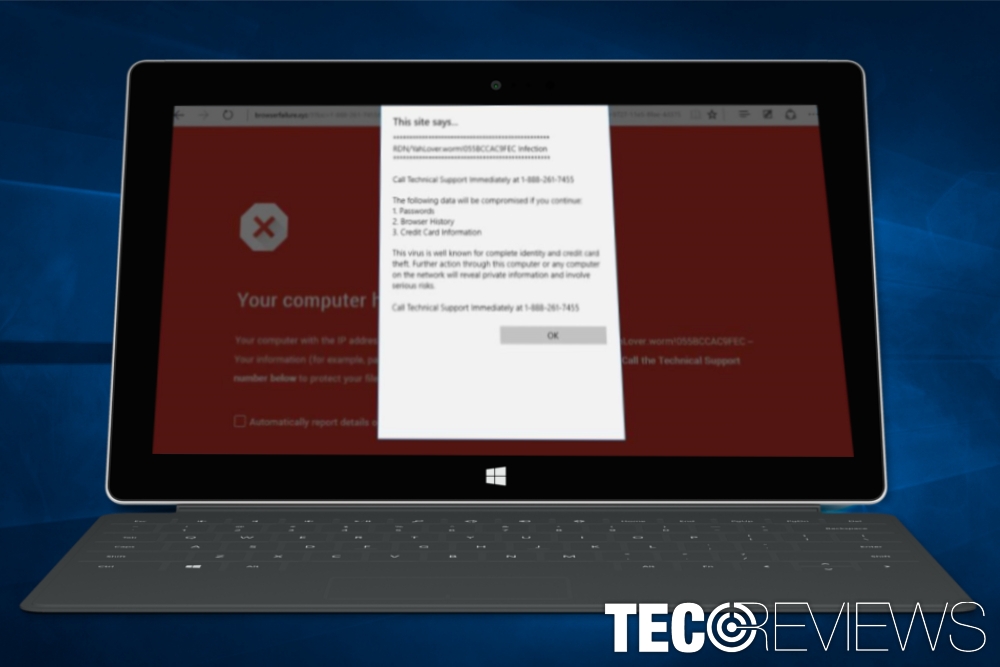 One of the reasons why RDN/TROJAN.WORM!055BCCAC9FEC pop-ups appear on the computer is adware infection. This potentially unwanted program often sneaks into the system in the software bundle. Thus, if you have recently downloaded some free program, it may have brought PUP inside as well.
However, Internet users might end up on this site while they are browsing through insecure or potentially dangerous sites, such as pornographic or gaming.
Description of the RDN/TROJAN.WORM!055BCCAC9FEC error
RDN/TROJAN.WORM!055BCCAC9FEC technical support scam pretends to be a Google Security Warning. The website delivers a red error screen that resembles Deceptive Site Ahead warning. However, instead of the real security alert, it warns that computer with your IP address is infected.
Additionally, the website delivers a pop-up message which informs about possible threats that might affect you, if you do not call the provided number:
RDN/YahLover.worm!055BCCAC9FEC Infection

Call Technical Support Immediately at 1-888-261-7455

The following data will be compromised if you continue:
1.  Passwords
2. Browser History
3. Credit Card Information

This virus is well known for complete identity and credit card theft. Further action through this computer or any computer on the network will reveal private information and involve serious risks.

Call Technical Support Immediately at 1-888-261-7455
However, the whole message is a scam and created to scare inexperienced computer users. According to the users' reports, scammers asked to pay $150 for non-existent virus removal. We can ensure that giving so much money for crooks is not needed. If you got infected with adware, you could get rid of it for free even if you are not a highly skilled PC user.
Signs that your PC is infected with adware that redirects to tech support scam website
The simplest test to identify if your device is infected with adware is to check if redirects to RDN/TROJAN.WORM!055BCCAC9FEC scam website repeats itself. If your browsing sessions are often disturbed by this pop-up, chances that your PC is infected are high.
Additionally, adware infection also causes these symptoms:[3]
an increased amount of online ads;
suspicious security alerts or pop-ups;
notifications of outdated software or detected viruses are popping up while
you browse the web;
automatically opened browser tabs;
redirects to questionable websites;
changed browser's homepage, default search engine.
However, if redirect to the tech support scam site was one time even, you should just carefully choose websites[4] you are visiting to avoid getting tricked by tech support scammers or other fraudsters.
Fixing RDN/TROJAN.WORM!055BCCAC9FEC error
Method 1. Manual elimination of the error
Removal procedure consists of two major tasks:
malicious program uninstallation from the system;
browser reset.
Keep in mind that you have to find and remove all programs, browser extensions, files and other components to stop redirects to the scam website and other adware activities.
Remove suspicious components from Windows operating system
Windows 7 and XP users should follow these steps:
Click Start and access Control Panel.
Go to Programs and Features.
Choose Add/Remove programs.
From the list of installed applications, find all unknown programs. The best way to find suspicious entries is to sort the list by the date.
Click on the potentially dangerous entry and click Uninstall.
Confirm the process by clicking OK or Uninstall option.
Windows 8, 8.1 and 10 users should follow this guide:
Right-click the Windows Key.
Choose Control Panel.
Navigate to Uninstall a Program.
In the list of installed programs look up for suspicious programs. You will be able to find suspicious applications if you sort the list by date.
Choose questionable applications and hit Uninstall option.
Click OK/Uninstall to confirm the uninstallation.
Reset web browsers
Browser reset is needed because ad-supported applications are capable of altering browsers' settings, installing malicious add-ons or extensions that spy on your online activities. Therefore, redirects to RDN/TROJAN.WORM!055BCCAC9FEC scam website might still continue. In order to avoid that, you should reset web browsers.
Click on these links to find detailed instructions on how to reset:
Method 2. Automatic elimination of the error.
The RDN/TROJAN.WORM!055BCCAC9FEC error message is triggered by an adware program which might be hard to detect and eliminate[5] manually. Thus, if you want to speed up its removal or be 100% certain that this PUP is gone for good, you should opt for the automatic elimination method.
You have to obtain a powerful and professional malware removal program and run a full system scan with it. However, you should still reset each of the browsers that are installed on your PC. It will help to delete adware leftovers, tracking cookies or similar components.