Windows Store Error 0x80244018 is one of many errors that might prevent Windows 10 computer users from regular work. This error usually causes problems with Windows Store[1] and cause other connectivity issues. As a result, users are unable to download apps from Windows Store. Apparently, this issue needs to be fixed. Therefore, in this article, we are going to explain this error message and help you to get rid of this problem.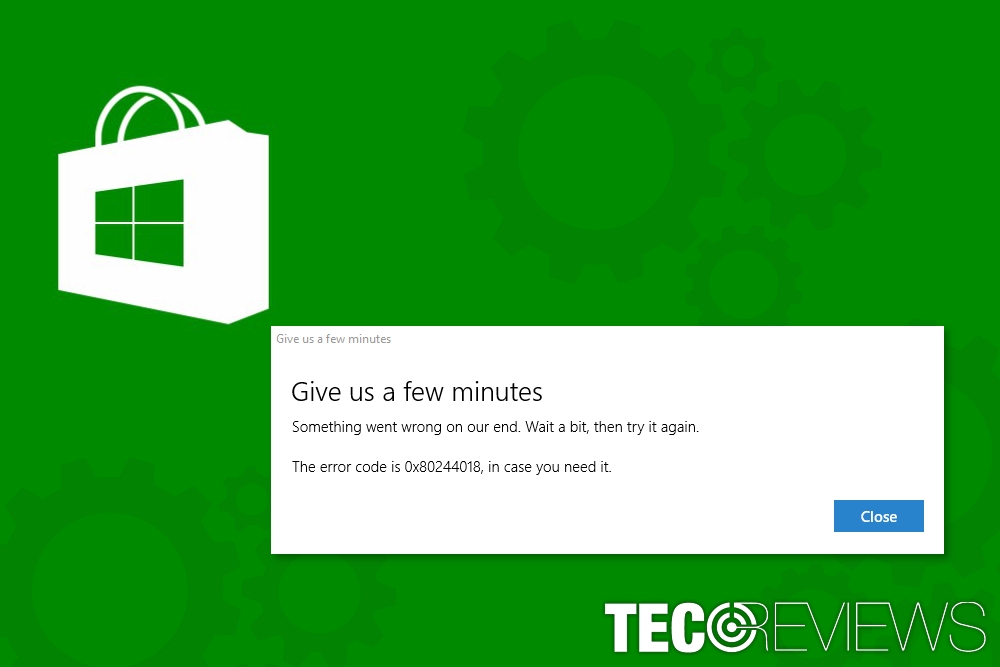 Many computer users reported that 0x80244018 error appeared after the installation of Windows Update[2]KB4038788 (OS Build 15063.608). Indeed, that's annoying. The update was supposed to improve operating system, fix some flaws or vulnerabilities. However, the result was quite the opposite.
It seems that this update did something to Internet settings or caused compatibility issues with Windows Store. Nevertheless, app store continues working; users receive an error message when they try to download the needed app:
Try that again
Something went wrong.
The error code is 0x80244018, in case you need it.
or
Give us a few minutes
Something went wrong on our end. Wait a bit, then try it again.
The error code is 0x80244018, in case you need it.
or
Something happened and this app couldn't be installed. Please try again. Error code: 0x80244018
Indeed, knowing the error code is great. However, it's even better to know what should you do about it in order to download needed applications.
Simple methods does not help to get rid of Windows Store error
There's no doubt that once received an error message; users try to perform the same task again. After a couple of attempts to download the app from Windows Store, users often try to restart their computers[3] or check their Internet connection. However, none of this helps.
Cleaning Windows store cache or running sfc /scannnow command does not help to fix the 0x80244018 error. What's next? Of course, there's always a chance to wait until Microsoft rolls up a new update and fixes the problem. But no one has time for that!
Fortunately, there are few methods that might help you to solve the problem, such as uninstalling the update that caused the error or checking if the source of the problem was not a malware infection.
Methods to fix Windows Store Error 0x80244018
If you are dealing with this error message, we have three options that should help you to remove the error. We highly recommend starting with the first – the easiest method. However, if it does not help, then continue with second and third methods.
Method 1. Run system scan with antivirus program
Error messages are often triggered by malware infection. Thus, Error Code 0x80244018 might also be triggered by some cyber threat.[4] System scan with anti-virus or anti-malware software is extremely important if you noticed other suspicious symptoms, such as:[5]
crashing or irresponsive programs;
system slowdowns;
deleted or unable to open files;
an increased amount of pop-ups, ads or banners;
suspicious security alerts show up on the screen;
etc.
Keep in mind that you should download security program from the legitimate developers' websites instead of pop-ups or file-sharing sites. You might install a malicious program that might damage the system even more.
Method 2. Recreate AppReadiness folder
Due to the update, various software or malware infection, the important AppReadiness folder may have been corrupted. For this reason, you should find it in C:\\Windows directory, delete it and create again.
Open This PC and choose View tab at the top.
Mark the Hidden Items option.
Click Options and Choose Change folder and change options.
Open View tab and unmark the tick (if it exists) near Hide protected operating system files (Recommended).
Click OK to confirm the changes.
Once it's done, you should delete and recreate the AppReadiness folder. Follow these steps:
Navigate to C:\\Windows directory.
Right-click on the empty space.
From the drop-down menu, choose New and hit Folder.
Name the new folder as AUInstallAgent. The system will ask for administrative privileges.
Once you create a folder, reboot the system and check if the 0x80244018 error still bothers you. If not, congratulations, the problem is fixed! If yes, you should go to the same C:\\Windows directory and create a new folder with name AppReadiness. Then restart the computer and check if the error is gone.
Method 3. Uninstall the update that caused the error
Many computer users report that Windows Store Error 0x80244018 emerged after installing updates. Thus, removing the update might help to solve the problem.
Right-click Windows key and choose Settings from the menu.
Choose Update & Security.
Open Advanced Options.
Click on Update history option.
Select Uninstall Updates.
Windows will show you the list of installed updates. Find the one that you suspect of being responsible for bringing Windows Store Error. Click Uninstall option.
Once the update is removed, restart the computer and check if the error is gone. Hopefully, the problem is solved, and you can download needed apps from the Windows Store without any obstacles.