We are sure that at least once in your life you received that annoying error that prevents you from deleting a specific document that you no longer need. You click "Try again" several times, but you still receive the same annoying Windows error sound and a pop-up telling that something prevents from deletion. Sometimes rebooting computer helps and you can clean up your desktop from unwanted files and folders. However, such a simple solution does not always help. Sometimes, you cannot remove locked files or folders because specific programs are using it,[1] usually, in the background. Therefore, you may need to put a little bit of an effort to make more space on the device and get rid of this stubborn file.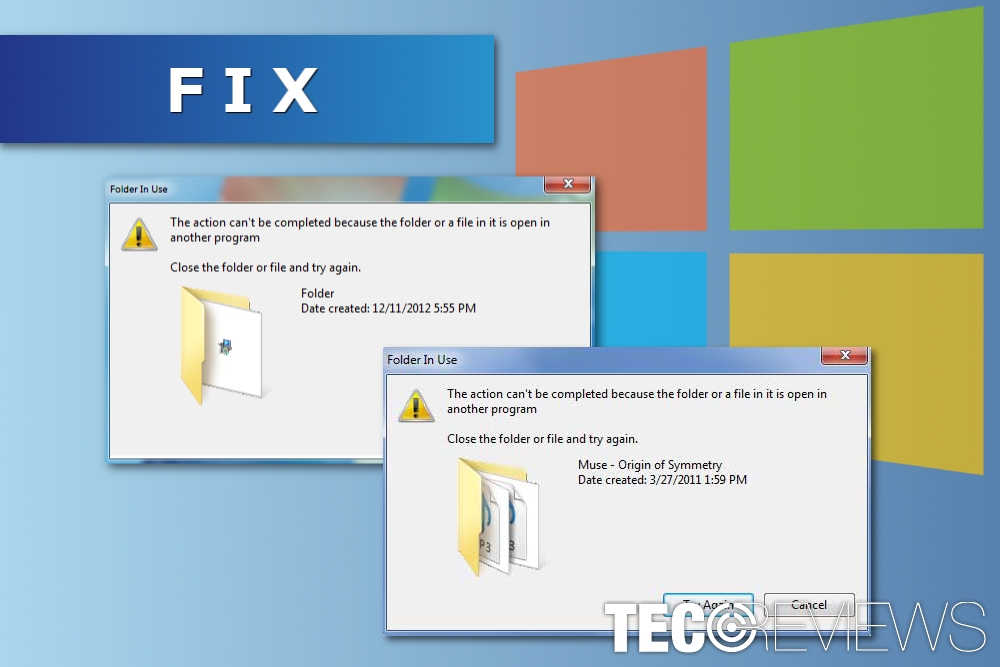 Solutions to delete locked files or folders from your computer
If you are 100% that you closed the document you want to believe and any program does not use this folder, you may need to try other methods to get rid of the error. However, before you start, you should restart your PC and check if deletion error was not a one-time issue.
Method 1. Use Command Prompt to delete files
Launch Command Prompt

[2]

by entering cmd in Windows search box.
Right-click on the Command Prompt entry in the results list and choose Run as administrator option.
In the Command Prompt enter CD to open the root folder.
Type "DEL filename (with extension) /F /Q however, instead of "filename" enter the name of the file you want to delete.
Click Enter and let the program delete the file.
Method 2. Delete file using Windows Recovery
If a previous method did not help, you can try Windows Recovery option which should delete the most stubborn files or folders.
Turn off the computer and insert Windows re-installation CD into the disc drive.
Turn on the computer and boot it from the disk instead of hard disk.
Press R key in order to boot the computer into recovery console mode.
When in recovery mode, navigate to the location where the troublesome file is using Command Prompt. For instance, you can type: cd C: Documents and Settings My Music Filename.
When you find the file, type del to delete the file.
Then enter exit command and reboot the computer normally.
Method 3. Use third-party uninstallers
If built-in Windows tools do not help, you can also take advantage of the third-party software. However, we want to remind that you should install these programs from the official developer's websites.
We have no doubts that third-party download sites can offer these downloads too. However, these programs can be corrupted, malfunctioning or obfuscated. Hence, they might bring malware to the computer. As a result, you might get your files encrypted by ransomware and be unable to unlock them at all.
Process Explorer – freeware ask manager and system monitor which is acquired by Microsoft
Process Explorer[3] is one of the tools that can help to remove locked files from Windows computer. The tool is created by Winternals Software which is owned by Microsoft. Therefore, this program is definitely safe to use.
It operates as a Windows Task Manager, so it won't be hard to use. However, in order to help you to use this tool, we have prepared a short guide. Thus, install the program and follow it!
How to delete locked files with Process Explorer
Open File and click on Show Details for All Process option.
Click Find on the menu and choose Find Handle or DLL option.
Type the name of the troublesome file in the program's search box.
Choose the file and check out the handle in the details section below.
Right-click the file handle and choose Close Handle option.
The process should be stopped, and you would be able to delete the file from its original location.
TizerUnlocker – a free program that helps to delete troublesome files within a few clicks
TizerUnlocker is another free tool that helps to deal with stubborn files that cannot be deleted from Windows OS. Once you install the program, you have just to enter the name of the corrupted file and follow the steps on the screen to delete it.
ThisIsMyFile also offers system diagnostics
ThisIsMyFile[5] is a free program that not only helps to remove locked files or folders but gives an explanation why the problem has occurred. This tool also operates as a diagnostic software and tells what issues stopped you from regular deletion.
One of the advantages of the program, it does not require installation. All you need to do is to download the program and run it!
LockHunter – free recovery software that points at the source of the problem
If some program on your PC prevents from removing files or folders, LockHunter software will tell you which one is stopping you. Of course, it also allows finally deleting the content that you do not need and free up your computer's space.