The Samsung Galaxy S9 might be a serious competitor for the recently released iPhone X.  It seems that the fight between team Samsung and team iPhone probably will never stop. The new creation from Samsung is expected in 25th of February 2018.[1] However, the release date might be later either in March or even April. However, the launch is associated with Barcelona's Mobile World Congress 2018 which should be held from during the last days of February.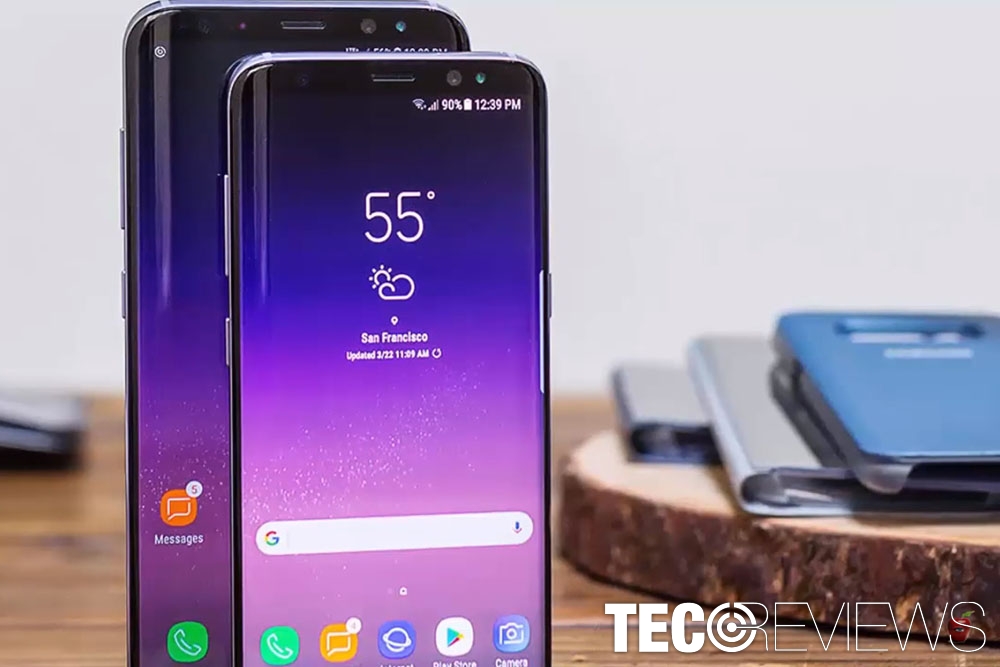 The Korean company The Bell reported that Samsung is working on the new smartphone in May 2017. They told that the new codename of the device is Star and Star 2. Therefore, there should be standard and Plus editions.
The previous versions of Samsung smartphones were released around February-March. Therefore, this new gadget might be introduced to the world during the similar time in 2018.
Latest news about Samsung Galaxy S9
According to the unofficial sources, Galaxy S9 displays should be fully developed in this November. Therefore, it might take few more months to find the smartphone in the stores.
It is also expected to have a powerful Snapdragon 845 chipset, 6GB of RAM and introduce new design changes.
It's all about curves!
The new device should be curved on four sides. This assumption is made due to the news appeared on Korean media outlet ETNews.[2] They reported that Samsung was working on a specific lamination process which might allow creating a smartphone with all four curved edges.
Bigger device, better display
Compared to the previous Samsung models, this one might be a little bit bigger – about 6 inches. Therefore, the display should be improved as well. The fingerprint scanning feature should be included too.
Modular design
According to the leaks provided by Eldar Murazin,[3] the new Galaxy S9 might have a modular design which might be similar to the new Essential Phone.
The leaker believes that users might be able to attach phone accessories, such as camera lens, with the help of the magnets. However, these news haven't been confirmed yet.
Price predictions
The price is not expected to be higher than previous models. Currently, no one talks about major design changes that may increase the price. Therefore, it might cost around 725 USD.
Comparison: Samsung Galaxy S9 vs. iPhone X
The thickness, width, and weight of the S9 are still unknown. The colors of the device are not released yet too. However, we do not expect anything bright or different. It is most likely to be available in black, grey, blue and white colors, as usual.
The Android device will be slightly bigger than the current iPhone – 6.0 inches (15.24 cm). The iPhone is 5.8 inches (14.73 cm).
However, compared other specifications, the newest Samsung might be better.
Why might Samsung be better than latest Apple smartphone?
Memory
The upcoming Samsung will have a 6GB of RAM while Apple iPhone X has 3 GB of RAM. Moreover, it has an expandable storage memory which can be up to 256 GB.
Screen resolution
It also has a better screen resolution – 1440 x 2960 pixels (iPhone's resolution is 1125 x 2436 pixels).
Battery life
The battery of Samsun is supposed to be bigger too – 3500 mAh. Meanwhile, iPhone's battery is 2716 mAh. Therefore Samsun Galaxy S9 should last longer and prevent you from charging your smartphone two times a day.
Dual SIM card
If you use two phones or two SIM cards, Samsung is definitely the better option. It has a dual SIM card while iPhone X supports only one SIM.
Fingerprint
The fingerprint sensor is not included in the latest iOS phone, but Samsung will have this feature. Besides, it seems to be improved compared to the latest model.
Camera
The camera of the Samsung Galaxy S9 should be better too.[4] Its capacity is 3500 mAh, while iPhone X's – 2716 mAh. Besides it should offer lots of new features that allows capturing great pictures in motion.
Price
Of course, the main advantage of the Samsung is its price. It is supposed to be smaller than iPhone X and be a little bit more than $700.
Both smartphones have similarities too
Both potential competitors share similar features too. Currently, it's known that both smartphones:
have a quick charging feature. However, it's unknown if Samsung will need additional equipment to enjoy this feature. Meanwhile, iPhone users need to get additional stuff, which might be pricey.
support 4G, 3G, and 2G networks,
have Nfc,
the same GPS parameters;
are water resistant. However, Samsung may have a better waterproof feature than an iPhone. It seems you can keep it up to 30 minutes in the water (1.5-meter depth) and it will work fine.
are dust proof.
have Li-ion batteries.
What about iPhone X pros?
One of the biggest advantages of the iPhone X is that it offers wireless charging feature. Samsung does not offer this function yet. Thus, you will need to continue carrying on a regular charger and look up for the power source.
Generally, iOS is supposed to be more secure operating system compared to Android devices.[5] That also shows in the increasing amount of Android malware attacking smartphone users. Meanwhile, iOS attacks are rare.