Anniversary update bug: cumulative update KB4034658 is responsible for deleting Update History
August Patch Tuesday[1] provided a bunch of security updates for supported Windows versions. However, users report about the bug in one of the cumulative updates. After the installation of KB4034658 patch, Windows Version 1607 users lose all the Update History data.[2]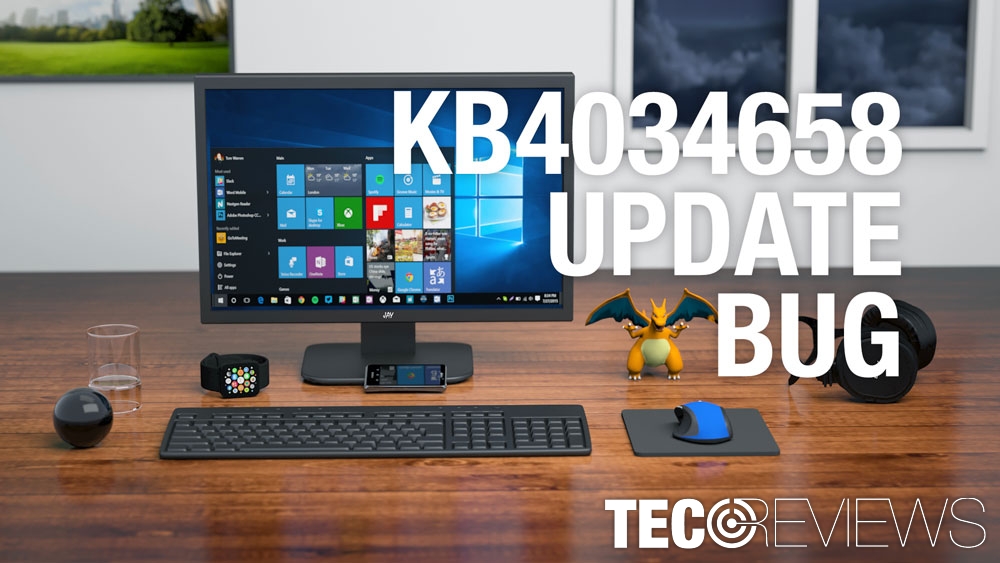 Updates are undoubtedly crucial to install. Fixing security vulnerabilities ensures protection from malware attacks and provides smoother computer's performance. However, the recent patches from Microsoft are slightly paradoxical. Some Windows users instead of fixing current flaws, have to deal with an unpleasant issue.
Numerous Anniversary Update (also known as 1607 version) users report that the Update History went missing as soon as Windows 10 KB4034658 cumulative update was installed. What is more, some users noticed that restore points were deleted as well.
Currently, Microsoft hasn't released an official acknowledgment about this problem. Thus, it's unknown if or when it will be fixed. However, even if it's done in the near future, updates history is not likely to come back. Therefore, if you haven't installed Windows 10 version 1607, you should make a screenshot of the Update History first.
Meanwhile, Windows 10 Creators Update or other versions users are safe from this bug and can install August updates without any worries.
Fixed issues and improvements provided by KB4034658 update
Windows 10 KB4034658 cumulative update belongs to the Microsoft August Patch pack. This update covers three major issues and includes quality improvements.[3]
The issue with app launch when in Tablet mode.
If you were one of the minority of Windows 10 users who were not annoyed by the Tablet mode and find it convenient, you might still have encountered one problem. Sometimes the apps were launched with a border when the device was run in the Tablet mode. Therefore, this issue is already solved.
The issue with Connected Standby mode
KB4034658 update also addresses an issue introduced in June updates. The problem was that some apps were unable to launch when a computer resumes from Connected Standby mode.
Security updates
Patches are impossible without security updated. Therefore, this "buggy" Windows update still provides a bunch of security updates for various OS programs and services:
Windows kernel-mode drivers,
Microsoft Windows Search Component,
Microsoft Windows PDF Library,
Internet Explorer,
Microsoft Scripting Engine,
Common Log File System Driver,
Windows Server,
Windows Hyper-V,
Microsoft JET Database Engine.
If you have activated set automatic installation of Windows updates, the KB4034658 update will be included in the patch. Otherwise, you can download It from the Microsoft Update Catalog website.
However, Windows 10 Anniversary update users are warned about these three issues that are currently under investigation:
Update History does not list previously installed updates.
Updates that were previously hidden may be offered after installing this update.
WSUS servers will exhibit increased CPU, memory, and network utilization when Windows Update clients perform their first scan after installing KB4034658.
Therefore, we want to remind Version 1607 users to screenshot Update History before installing this cumulative update.
Untangling the misunderstandings between Anniversary Update and  Creators Update
If you are one of the users who are confused by Microsoft updates and Windows versions, were are here to explain the key points.
Since the release of Windows 10 update on July 2015, the operating system has received updates four times.[4] However, the first major update is known as November Update or 1511 version that was followed by 1607 version, or Anniversary Update which was released for the public a year ago – in August 2016.
Therefore, Anniversary Update is not the latest release of Windows 10. However, the majority of computer users are quite conservative and do not feel a rush to upgrade their OS to the newest versions. Although, it's not always the best decision, according to the fact, that developers of ransomware tend to take advantage of outdated OS or software to launch cyber attacks.
However, after the release of the latest Windows version – Creators Update (Version 1703) – users were warned not to rush to download it manually. IT experts and Microsoft claimed that it's better to wait until all the bugs and other issues will be fixed. Therefore, users were asked to wait until the automatic updates are available.
Undoubtedly, users' enthusiasm may have been diminished. As a result, many people remain loyal to the Anniversary Update even if the Creators Updates are available since April 11th, 2017. Since the announcements about an issue with KB4034658 updates appeared, the speculations about shady Microsoft's marketing strategy.
Conspiracy theories suggest that keeping this flaw is Microsoft's attempt to push users into upgrading to Creators Update. Nevertheless, the company always encourages users to use their latest products; these speculations are ridiculous. Microsoft is working on Fall Creators Update[5] that will be released this autumn. Therefore, they are most likely to advertise their newest release and make people wait for it than leaving bugs and causing problems to their customers.