One of the leading anti-malware solutions extensively reviewed. Does Malwarebytes Anti-Malware live up to it's good name?
Even if you are not tech-savvy, you might have still heard about Malwarebytes Anti-Malware tool. This popular product was designed by the company of the same name, Malwarebytes. It was founded in Illinois, Unites States in 2008.[1] Due to a thorough analysis of the malware world and addressing ordinary netizens as well as corporate persons' needs; the company has achieved significant results. Their products have been appreciated all around the world. Besides several computer security tools designed for Windows, Mac, Android users, let us take a closer look at their perhaps best-known tool – Malwarebytes Anti-Malware.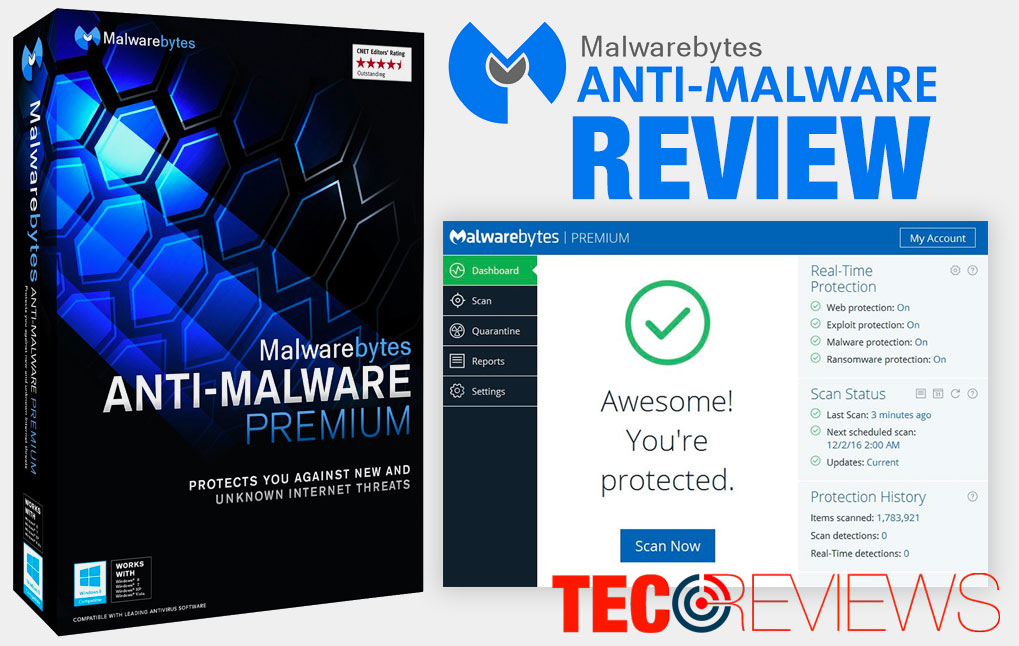 Quick Malwarebytes Anti-Malware Review Summary
Pros
Effortlessly removes ransomware and viruses.
Low technical requirements.
It runs in cooperation with other antivirus software.
Multiple layers of protection.
Conclusion
One of the best free anti-malware tools.
Consider using Malwarebytes with other compatible antivirus software.
Paid version is quite expensive.
Comparing Malwarebytes Anti-Malware versions
It is not surprising that the company has earned million of users' trust so soon. Besides the company's research of malware. In 2011 HPhosts, the company focusing on website blacklisting joined Malwarebytes. As a result, the program is not only capable of scanning your system for potential threats but ward you off from potentially fraudulent websites.
Paid and free versions of Malwarebytes
Malwarebytes Anti-malware is available in two versions: free and paid. The primary difference between them is that the latter grants you real-time protection. As for the former edition, you need to update the software and set scans by yourself manually. On the other hand, both versions assist you in locating and terminating less and more elaborate viruses.
The software is apt in detecting such pests as adware or browser-based virtual infection. Though they often are labeled as small or medium threats, their outcomes are, nevertheless, as annoying as the consequences after getting infected with more destructive computer viruses. The tool manifests sufficient protection against rootkits, malicious tools, which grant remote access to the device.
Malwarebytes Anti-Malware Performance tests
Malwarebytes Anti-Malware version 1.05 displayed outstanding performance in the tests run by the independent IT security Institute. The device detected all malignant test samples, eliminated temporary unnecessary files, and repaired damage inflicted by malicious files and viruses. As a result, the software was awarded the title of best repair 2014[2]
Another highly positive aspect is that the application does not leave a significant impact on the system. Unlike some of the applications which drain CPU memory resources which result in slower system application loading and initialization of other system processes, you can continue your activities while the software performs a scan in the background.
Malwarebytes Anti-malware is perfectly compatible with anti-virus programs as well. Mac OS and Android users are not excluded as well. The company offers Malwarebytes Anti-Malware for Mac version[3].
As for mobile users, the mobile version of the tool does not only scan installed applications and files but monitors which and how much information installed applications collect about you. Also, it monitors the incoming and outgoing data traffic.
The mobile version also inspects email attachments as a prevention from ransomware.[4] These features are especially practical if we take into account still significant high vulnerability of mobile devices to virtual threats.
Key aspects of the application
Easy manual.
Versions for Mac OS and mobile devices; low technical requirements.
Paid version grants real-time protection against ransomware and other sorts of malware.
Diverts you from insecure domains with poor ratings.
Free version professionally locates all sorts of malware: from PUPs to backdoors and rootkits.
It runs in cooperation with anti-virus programs.
Exclusion list function lets users manage the quarantined websites.
What are the drawbacks of Malwarebytes Anti-Malware?
Naturally, free version contains more disadvantages that the paid version. As mentioned previously, manual update process might bother users who are used to tools which perform this function automatically.
Malwarebytes Free vs Premium Comparison
Free version
Premium version
Real-time protection
Detects malware before it can infect the system

Expires in 14 days

Anti-exploit
Defends systems at risk and software from exploit attacks

Expires in 14 days

Anti-ransomware
Stops ransomware attacks before the data is encrypted

Expires in 14 days

Malicious website protection
Prevents opening known malicious internet pages

Expires in 14 days

Anti-malware/Anti-spyware
Detects and removes all kinds of threats

Anti-rootkit
Removes rootkits and repairs the system
Furthermore, the free version scans only already installed programs. It does not substitute anti-virus tools. If you consider purchasing the license of a premium version, then you do not necessarily need to install an additional anti-virus program.
Speaking of the premium version, its real-time protection might annoy users who are used to visiting movie streaming websites or domains with improper SSL security certifications. Though such domains are often overcrowded with ads, they are not necessarily malicious; nevertheless, the tool puts a ban on them. In overall, it may turn out that you cannot access a lot of websites. On the final note, the free version does not contain a scheduled scan feature.[5]
Final Verdict
Malwarebytes Anti-Malware justifies its title as one of the best anti-malware tools. Since the company provides several versions, a broad audience of users will find the right tool matching their needs.
If you are ready to opt for permanent protection, you may either purchase the premium version for 39.99 for one device. Despite what version, you choose you will be assured that the tool provides professional anti-malware and its removal services.
On the final note, Malwarebytes Anti-Malware earns 4.6 stars at TecoReviews.