2-spyware.com is an online project which has recently celebrated its 13 years of existence. Since its appearance in 2004, it kept its utmost priority to educate users about computer viruses and malware of all sorts. 2-spyware website provides relevant and the most recent information about virtual threats, their operation peculiarities, prevention measures, and elimination options.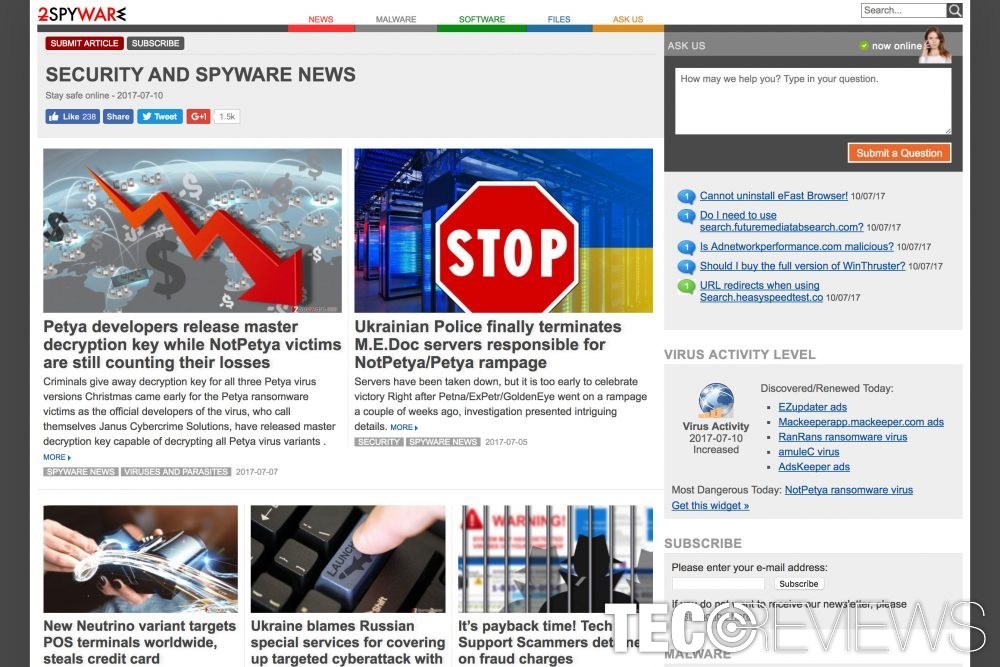 2-spyware: From a blog to a major competitor in the security field
Though the website started out as a small blog covering news about computer malware and virtual scams, it gradually evolved into the online source which does not only provide informative articles specific threats but also offers "Ask us" service and cyber security software reviews.
2-spyware.com is divided into five sections
News section
This section encompasses news articles which cover spam and phishing, viruses, and cyber security topics. Even if you are not into the IT field, you will surely find a relevant article.•
Malware section
The latter section delivers information about all sorts of virtual threats, including backdoors, spyware, spam tools, trojans, cracks, AOL viruses, keyloggers, etc. Each subsection starts with general specifications about the category. Specific samples of that classification are provided below. This is by far the key section of the website as netizens will find instructions and malware removal guides.
Software section
section might be more interesting for users who are looking for a tool to enhance their cyber security and protect the data on their PCs. Compare subsection delivers insight to popular anti-virus tools by summarizing key functionalities and prices.
Files section
The section focuses on both, malicious files and legitimate files. If you have noticed a questionable .exe file running in your Task Manager, you are likely to find more information about it there.
Ask Us section
This section grants the ability to get technical advice. You may also find other users' questions or comments about specific computer viruses.
Editors of 2-spyware.com
Each of the editors is a specialist in the area. Thus, visitors will find informative and relevant articles, reviews and virus removal guides. You will find coverage about such notorious threats as WannaCry[1] and less known malware.[2]
Final notes
The website is appealing, functional, and convenient for every user, old and young. It is oriented mostly at the US audience[3], but residents of other countries will find relevant information to them as well. 2-spyware has its 24 language counterparts. Thus, Chinese, Czech, Greek, Spanish, British, Russian, French speakers can look up information about malware in their language.
The website promotes several programs, but it does not enforce you to buy them. 2-spyware focuses on providing correct and relevant information to users, so it is up to you weather you will buy an offered solution or not.
In overall, due to the objective approach and cooperation, the website has claimed the title of an informative site on malware removal, prevention, and overall cyber security.