Just like the name suggests, MacX Video Converter Pro is a program that allows converting various types of videos and audio files. Even though, the program is designed for Mac computers; developers, Digiarty Software, Inc., has a tool for Windows OS users too. Today, we will take a look at the Mac video converter, which is said to be one of the best video converting tools,[1] and give you sincere opinion whether you should try it or not.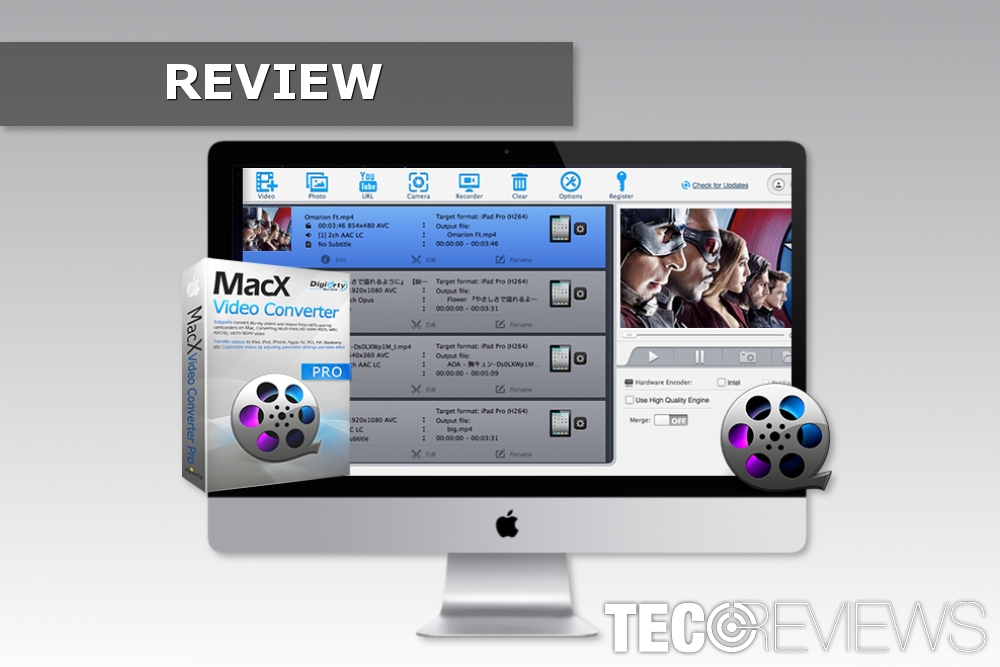 Pros:
a wide range of supported video and audio formats;
compatibility with smartphones;
video editing possibilities;
simple and easy to use interface.
Cons:
quite expensive software.
Mac video converter is not for free
The Mac video converting and editing software has free and paid versions. There's no doubt that free version does not include as much functionality as the paid version. However, it's a good idea to try it for free before investing the money.
The full price of the program for one year license is $49.95. Lifetime license cause $59.99. However, developers often give discounts and special deals. Thus, you might obtain the license for $29.9 or 39.95.
Main features of the MacX Video Converter Pro
There's no doubt that the primary purpose of the tool is to convert various videos. However, developers offer other useful features to make the program stand out from the competitors.
Software allows converting videos to different formats on Mac OS X
The program supports 4K UHD, HD, and SD videos and offers to convert them into MKV, MP4, MOV, M4V, AVCHD, M2TS, AVI, WMV, VOB and many other file types. Software includes more than 320 video codecs and supports 180 video formats. Thus, you should not encounter any problem with unreadable file formats.
Converting any audio format without any worries
MacX Video Converter has more than 50 audio codecs that allow converting and downloading various audio files, starting from the most popular mp3 and mp4 files, and finishing with MKV.[2]
Support for hundreds of download sites, YouTube included
We are all aware that downloading videos from YouTube is illegal without reading their Terms of Use. There's no doubt that we would be offered to use "download" button if Google would want that. However, it's a public secret that people tend to perform this illegal action.
MacX Video Converter Pro helps to do it even more conveniently. The program allows downloading 4K UHD videos and 3D 720P/1080P HD Blu Ray movies. Additionally, users can download content from more than 300 video streaming sites such as Dailymotion or Vimeo.
Fast video conversion speed
In the official website, developers claim that MacX Video Converter is a first video converter in the world that supports Intel QSV hardware acceleration technology that gives extremely fast video conversion speed.
Indeed, compared to other Mac video converters, this tool is fast and does not diminish the quality of the video or audio file. Therefore, using this tool, you can forget about hours of waiting for the converter to complete a needed task.
Solving video incompatibility problems
Probably all of us have encountered at least once in a life a problem with an unreadable file format. For instance, you took a video with your phone, uploaded it to PC, and it does not play. However, MacX Video Converter helps to avoid these issues.
The program can convert videos and make them accessible no matter which device you are using. Based on the chosen device, the software can reduce the size of the converted file. Therefore, if you want to upload the latest TV show on your smartphone, this tool might help to save the space.
One of the biggest advantages is that Mac video converters support newly released gadgets such as iPhone X, iPhone 8 and 8 Plus, Samsung Galaxy Note 8 and Samsung Galaxy S8 and Huawei Mate 10. Therefore, the program is frequently updated and follows latest technology trends. Undoubtedly that compatibility with modern devices gives a favor from technology geeks.
Additional features of the Mac video converting software
Video editing possibilities
If you want to make a home movie, edit a video before posting it on a social network or just improve your video editing skills, MacX Video Converter Pro is useful as well because it includes these additional features:
trimming, merging and cropping videos or audio files;
cropping frame size;
editing and personalizing videos;
adding watermark;
including Blue-ray and MKV inner subtitle tracks.
Recording the screen
If you have ever needed to record your Mac's screen,[3] you can probably remember this quite tiresome task. However, this tool can simplify your life. Screen recording feature is simple and easy to use.
Need a slideshow? MacX Video Converter Pro will help you as well
If you want to show your holiday or birthday movies to the family members, you can upload this content to the program and create a slideshow. You can create either a video and upload it online, or you can save into USB or DVD and bring together in the family gathering.
Simple user interface is one of the biggest advantages of the MacX Video Converter Pro
Even if it's a first Mac video converter you are planning to try, we can assure that you won't take long to figure out how to use it. The program has a simple interface, and the majority of functions are based on a well-known drag and drop feature.
Only few mouse clicks and you can convert, edit or trim a video, and use it for your own goods.
Final words: functional and easy to use Mac video converting software
The reviews online do not lie.[4] MacX Video Converter Pro is indeed a great tool that helps to do probably everything that you can imagine with video and audio files. This simple to use Mac software helps supports lots of different formats, so you will be able to forget the annoying unreadable video problem.
MacX Video Converter Pro is a convenient video converting and editing tool that offers a bunch of useful additional features. However, in order to take advantage of the program, you will need to get a license.